Hang Up and Listen: The I Bought a Hippo Edition
Slate's sports podcast on whether baseball games are too slow, how Anderson Silva trolled UFC 162, and the dire state of highlight shows.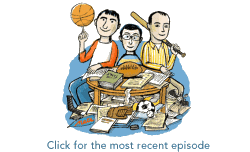 Listen to Hang Up and Listen with Josh Levin, Tim Marchman, and Mike Pesca by clicking the arrow on the audio player below:
Hang Up and Listen is brought to you by Stamps.com. Click on the radio microphone and enter HANGUP to get our $110 bonus offer.
In this week's episode of Slate's sports podcast Hang Up and Listen, Josh Levin and Mike Pesca welcome new Deadspin editor Tim Marchman to discuss the slow pace of baseball games, Chris Davis' rise from struggling slugger to hitting 37 home runs by the All-Star break, and Tim Lincecum's no-hitter. They also review Anderson Silva's loss at UFC 162 and the long-time champ's trolling tactics. Finally, they consider if the sports highlight show has outlived its usefulness.
Here are links to some of the articles and other items mentioned on the show:
Tim's Vodka Drunkenski: Baron Davis confesses that he was abducted by aliens, though he hesitates to call it an abduction.
Podcast production and edit by Mike Vuolo. Our intern is Michael Gerber.