Hang Up and Listen: The Understandably Quiet Edition
Slate's sports podcast on the NHL's power quartet, Roy Hibbert's on-court stardom and off-court homophobia, and the state of Mount Everest in 2013.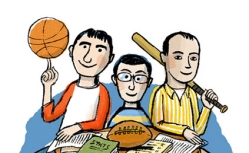 Listen to Hang Up and Listen with Stefan Fatsis, Josh Levin, and Mike Pesca by clicking the arrow on the audio player below:
Hang Up and Listen is brought to you by Stamps.com. Click on the radio microphone and enter HANGUP to get our $110 bonus offer.
In this week's episode of Slate's sports podcast Hang Up and Listen, Stefan Fatsis, Josh Levin, and Mike Pesca discuss the NHL playoffs and why the last four Stanley Cup champions are the last four teams standing in 2013. They also talk about Roy Hibbert's defensive prowess, Hibbert's "no homo" gaffe, and the infighting between Miami's Big 3. Finally, they are joined by mountain climber Ed Viesturs to assess whether there should be a ladder near the top of Mount Everest.
Here are links to some of the articles and other items mentioned on the show:
Podcast production and edit by Mike Vuolo. Our intern is Michael Gerber.