Hang Up and Listen: The "And I'm Gay" Edition
Slate's sports podcast on Jason Collins' coming-out story, the NFL draft, and the NHL postseason.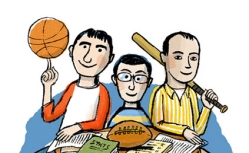 Listen to Hang Up and Listen with Stefan Fatsis, Josh Levin, and Mike Pesca by clicking the arrow on the audio player below:
Hang Up and Listen is brought to you by Stamps.com. Click on the radio microphone and enter HANGUP to get our $110 bonus offer.
In this week's episode of Slate's sports podcast Hang Up and Listen, Stefan Fatsis, Josh Levin, and Mike Pesca are joined by Sports Illustrated's Franz Lidz to discuss Jason Collins' decision to come out and how the magazine got the story. Next, they talk about the hugs, hubris, and hyperbole of the 2013 NFL draft and why the event draws so many viewers. Finally, they speak with Puck Daddy's Greg Wyshynski about what to expect in the NHL playoffs.
Here are links to some of the articles and other items mentioned on the show:
Podcast production and edit by Mike Vuolo. Our intern is Eric Goldwein.