Hang Up and Listen: The Twist My Arm Edition
Slate's sports podcast on Ronda Rousey's rise to stardom, the Blackhawks' record-breaking points streak, and what makes a great sports blooper.
Listen to "Hang Up and Listen" with Stefan Fatsis, Josh Levin, and Mike Pesca by clicking the arrow on the audio player below:
Hang Up and Listen is brought to you by Stamps.com. Click on the radio microphone and enter HANGUP to get our $110 bonus offer.
In this week's episode of Slate's sports podcast Hang Up and Listen, Stefan Fatsis, Josh Levin, and Mike Pesca are joined by Sports Illustrated's Melissa Segura to discuss Danica Patrick, Ronda Rousey, and a historic weekend for women in sports. They also talk with Puck Daddy's Greg Wyshynski about the Chicago Blackhawks' hot start, whether the NHL will create a coach's challenge system, and the rise of Kevlar socks. Finally, on the occasion of the worst free throw of all time, they create a taxonomy of sports bloopers.
Here are links to some of the articles and other items mentioned on the show: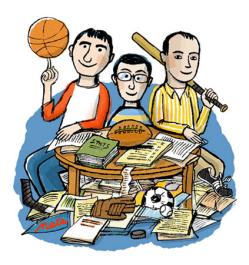 Josh's afterbutt: Robert Driscoll started the fire that (indirectly) kept baseball in Seattle.

Podcast production and edit by Mike Vuolo. Our intern is Eric Goldwein.