Hang Up and Listen: The Worth Its Wait in Gold Edition
Slate's sports podcast on Johnny Manziel's Heisman Trophy win, the Army-Navy game, and shot putter Adam Nelson's belated Olympic victory.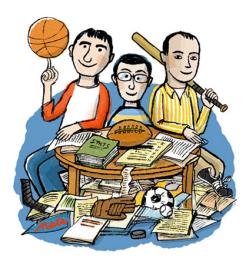 Listen to "Hang Up and Listen" with Stefan Fatsis, Josh Levin, and Mike Pesca by clicking the arrow on the audio player below:
Hang Up and Listen is brought to you by Stamps.com. Click on the radio microphone and enter HANGUP to get our $110 bonus offer.
Hang Up and Listen is also brought to you by Audible. Get a 30-day free trial by signing up at audiblepodcast.com/hangup. Our pick of the week is The Rider by Tim Krabbé.
In this week's episode of Slate's sports podcast Hang Up and Listen, Stefan Fatsis, Josh Levin, and Mike Pesca discuss Texas A&M quarterback Johnny Manziel, the first freshman to win the Heisman Trophy. Next, they're joined by Joe Drape, author of Soldiers First: Duty, Honor, Country, and Football at West Point, to talk about Army's football program and its 11-game losing streak to Navy. Lastly, they speak with shot putter Adam Nelson, whose 2004 Olympic silver medal could turn to gold as a consequence of former gold medalist Yuriy Bilonog's failed drug test.
You can read the transcript of the interview with Adam Nelson below.
Also, call 77-HANGUP-10 to submit your question for Hang Up and Listen's upcoming call-in podcast. Ask us anything!
Here are links to some of the articles and other items mentioned on the show:
Mike's Alexeyev: Abraham Lincoln's sports connection: Warren Wallace Beckwith, a baseball player known as "the dude" and "the lady killer."
Podcast production and edit by Mike Vuolo. Our intern is Eric Goldwein.
Transcript of interview with Adam Nelson.

JOSH: So if I was doing this introduction a week ago, I would have said that you won the silver medal in the shot put at the 2000 and 2004 Olympics, in addition to gold and three silvers at the world track and field championships. But last Wednesday, it came out that 2004 gold medalist Yuriy Bilonog of Ukraine had been stripped of his gold medal after his urine sample was reanalyzed and steroid metabolites were found using tests that were not available eight years ago. Adam, you haven't officially been granted a gold medal by the International Olympic Committee. The IOC could decide to elevate you to the gold or just vacate it and have no winner. So let me start by asking how you found out that you might be a gold medalist and whether you have any inkling of what the IOC is going to do now.
ADAM NELSON: I found out specifically about Yuriy being stripped on Wednesday. I was traveling to the airport in Atlanta. The news hit the wires that they had stripped the medals from four athletes from those games on a retest and that it looked like I was going to be awarded the gold medal. So that's actually how I found out. In fact, I have to thank all the media because as y'all found out more information, I'm finding out more information. There hasn't been a great amount of communication between me and the IOC or the IAAF (International Association of Athletics Federations).
STEFAN: Adam, we met in 2004 before the Olympics and then I was in ancient Olympia in Greece where the shot put was held. And I have to tell you, that was one of the most emotional moments that I've ever witnessed and covered as a sportswriter. You wound up finishing second. You fouled on your last throw. You protested vehemently in the heat of the moment and then realized later that you had indeed committed a foul stepping outside of the ring. I watched you walk over and hug your wife, you dissolved in tears. But you also had the wherewithal to stand there and talk with us reporters about what was going through your mind, the emotions you were experiencing—how even though you were in this incredible setting, you were still there to compete and this was a great, great letdown for you. Can you bring us back to Olympia and that day, and what you remember about it?
ADAM NELSON: It's really interesting. There are certain days that you just sort of remember everything that happened. All those feelings, sensations, the smells. It was so hot that day. When you walk into that particular stadium—they took us through the ancient ruins and then we walked in through what is basically a fissure cut in the hillside. I mean it was just this sort of crevasse in this hillside and there was an archway that expands over it that's been there for over 2,000 years, 2,500 years I think. That was probably the Olympic moment that I remember the most, is walking through that archway into the birth place of the Olympic Games, not just the modern Olympic Games, but the ancient Olympic games, and knowing that that's where it all began. From the moment we walked into the stadium, I think all of us felt a great deal of pride to be the event that was chosen to compete in that venue and the way that venue was set up. It was actually tailor-made for the type of venues that I like to compete in, which are where the fans are really close to the action and they feel the nuances of the competition. When the pressure starts to heat up, you can sense the pressure building amongst the athletes. And in that competition you really couldn't have written a script that could have matched the drama as it played out. I mean I took the lead on the first throw and Yuriy was just slowly improving every single throw. So I knew walking into the circle for my last throw that I had to throw farther to win. And I'm obviously a very emotional competitor. I like to throw all my heart and soul into every competition. So there was a lot riding on that competition and I was fortunate enough that my wife was there and having her there really, I think, helped ground me just a little bit so I could actually speak to the press.
MIKE: So I look at this situation, your situation, and I say, Yeah, why not give Adam the gold? I mean it's pretty clear—guy who came in first seems to have cheated, give it to the guy who came in second, actually tied him. But you know there are some situations I guess are murkier, like the entire East German doping conspiracy that went on for decades. Do you have any rules of thumb, not just for yourself but in general, when second or third or fourth place finishers should be retroactively given medals?
ADAM NELSON: Well, I think anytime someone tests positive—in this case, the winner tested positive so his results should be removed completely and I think everyone should be moved up. I think there have been certain circumstances where they just didn't know how far down to go before they found a clean athlete and in this situation that's not the case. I think in this situation it's pretty clear cut that he cheated, that there were other athletes including myself who did it the right way and deserve the opportunity to be moved up. The real losses here are the people that didn't have a chance to make the podium at all. Or the guy that got cut out from the final three throws because someone in front of him was cheating. And that guy in this case is John Godina, who's another American and certainly one of my heroes and mentors in the sport as well.
JOSH: So you told Tim Layden of Sports Illustrated this week that you've always been drug free, right?
JOSH: It's still striking, though, that the four men and women that were stripped this week, retroactively, were all in throwing sports. Did you have a sense at the time in 2004 or at other times that Yuriy or other people you were competing against were cheating? And also, why do you think that throwing sports have drawn so many users of performance-enhancing drugs?
ADAM NELSON: So, there's kind of two parts to that question. The first is, I think there are compliant countries and non-compliant countries when it comes to drug testing. That's not to say that those countries are any more clean than the other or any dirtier than the other. It's just that in the non-compliant countries, it's probably a little bit easier to cheat. At the same time, I do think there's also cultures that promote drug use as the only way to excel, and one of the things that certainly anecdotally you can see from these tests is there are certain countries that seem to have an uncanny number of positive tests—this is Ukraine and Belarus. So, I would say you're choosing to be very naive if you don't think that there's some drugs in the sport. You're also choosing to be very naive if you don't think that there's certain areas in my specific sport that promote drug use over clean performances.
STEFAN: And yet to you had to climb in the ring against these athletes meet after meet. How do you psychologically steel yourself for that suspicion or maybe outright knowledge that you're competing on an uneven playing field?
ADAM NELSON: You know, I've never really thought about it like that. The way I think, I choose to be naive and think that everyone is clean until proven guilty. And the reason why I do that is, very early on I saw how much of an impact it creates on you personally if you start thinking that everyone's on drugs. I've seen that literally destroy people. It either literally destroys them as an individual or they choose to do drugs themselves, and that's their justification. So very early on I just decided that, there's people that are doing drugs. I can't do anything about it. I can't stop them. They don't tell me they're doing drugs but you got a pretty good idea. And there's just certain things that are beyond your control as an athlete. But I've just seen too many people literally fall apart when they start focusing on the negative.
STEFAN: Adam, you went to Dartmouth. You played football there. You competed at a high level in the shot put from when you were a teenager. I called you about a month after the Olympics in 2004 kind of to check in and try to understand better what an athlete goes through when they experience the kind of disappointment that you experienced in Olympia, and you said something to me that always stuck with me which is that as much as you love the sport, training is incredibly boring. You said, "It's killing me. I love throwing. But there's a lack of intellectual stimulation. There's a lack of challenge. It's the same routine every day. You get some gratification about once every two years." You told me then that you wanted to go to business school, and I guess you ended up going to business school. But you also kept competing. And, from what I've read you also plan to remain involved in the sport. And I'm wondering how your mindset was shaped about your future career, and whether the pervasiveness of drugs and your outspokenness on the subject has made you want to stay involved in the sport, or whether there are other motivating factors when you looked to plan the rest of your adult life.
ADAM NELSON: In 2004, I actually had a lot of motivational problems that year. I was really getting burnt out on the training. We excel by doing the same thing every single day with small changes for long periods of time. So I was looking for more. I needed more depth to my day and I went to grad school and got my MBA from the University of Virginia's Darden School of Business, and it was fantastic. It really helped me fill a void. But at the same time it made me realize how much I truly cared about this sport. And one of the reasons why I've decided to stay involved with this sport is because I don't want to see it go backwards. We are on the cusp of developing a real profession for athletes. We are on the cusp of having a real strong athletes' voice in the stakeholder map and if we want to continue to grow this sport, we're going to have to find a way to create what that profession is and at the same time, have a stronger athlete's voice in the IOC, in the IAAF, in USA Track & Field, in the USOC (United States Olympic Committee), and all the other management groups within the sport.
At first, when I started doing the Olympic Games—I was trying to train for the Olympics—I said, I want to go out and win a gold medal. I want to go out and make an Olympic team. In order to that, you have to rely on the generosity of some great, great sponsors. Not everybody gets those sponsors so they can't actually finance their Olympic dream by doing the event that they chose to do in the Olympics. The IOC takes a standpoint that says, We don't pay Olympic athletes. But in order to excel at the Olympic Games, you have to train full-time. Some people can do part-time jobs. Some people can work full-time jobs. But the bulk of the athletes in the Olympic Games have to train six to eight hours a day, minimum, just to get there. So this notion of the amateur ideal, the amateur Olympian, is false. And so one of the things that I think I really want to do as an athletes' advocate is to drive for change around that particularly concept. That, listen, the athletes that compete in the Olympics are taking a break from their professional sport to represent their country. But we have to create that professional sport that they take a break from, and so that's one of the reasons why I'm sticking in this sport.
JOSH: Adam, thank you so much and congratulations again for getting the plaudits that you deserve.
MIKE: To you Adam, I say, USA! USA!
ADAM NELSON: I appreciate it.