Hang Up and Listen: The BCS Chaos Theory Edition
Slate's sports podcast on college football upsets, Aaron Rodgers and Tim Tebow, and Scott Raab's The Whore of Akron.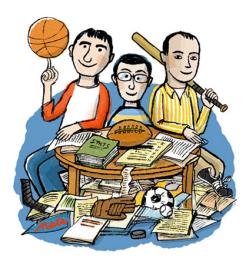 Become a fan of Hang Up and Listen on Facebook. Leave us a note, answer Mike's trivia question, and see what other listeners have to say about the latest podcast.
In this week's episode of Slate's sports podcast Hang Up and Listen, Stefan Fatsis, Josh Levin, and Mike Pesca discuss the fallout from a weekend of college football upsets and examine the philosophical questions raised by the BCS. They also evaluate the state of quarterback play in the NFL, as Aaron Rodgers leads the Packers to a 10-0 start and Tim Tebow moves to 3-1 as the Broncos' starter. Finally, they welcome Scott Raab to the show to discuss his new book on LeBron James, The Whore of Akron.
Here are links to some of the articles and other items mentioned on the show:
Hang Up and Listen's weekly Moroccan bazaar:
Podcast production and edit by Mike Vuolo.