Hang Up and Listen: The Better To Be Luck Edition
Slate's sports podcast on Game 6 of the World Series, Andrew Luck, and Jonathan Hock's Unguarded.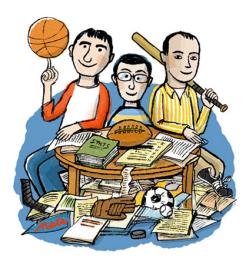 Become a fan of Hang Up and Listen on Facebook. Leave us a note, answer Mike's trivia question, and see what other listeners have to say about the latest podcast.
In this week's episode of Slate's sports podcast, Hang Up and Listen, Stefan Fatsis, Josh Levin, and Mike Pesca debate whether Game 6 of the 2011 World Series was the most exciting baseball game of all time. They also discuss Stanford's Andrew Luck and the NFL teams that would love to draft him. Finally, Jonathan Hock joins the show to talk about his documentary Unguarded, which centers on the drug-induced descent and ultimate recovery of basketball player Chris Herren.
Here are links to some of the articles and other items mentioned on the show:
Podcast production and edit by Mike Vuolo.