The Huddled Masses and Plotz's Birthday Gabfest
Listen to Slate's show about the politics of immigration reform, the unrest in Egypt, and how to compensate the victims of child pornography.
Become a fan of the Political Gabfest on Facebook. We post to the Facebook page throughout the week, so keep the conversation going by joining us there. Or follow us @SlateGabfest!
To listen to the discussion, use the player below:
A free one-hour webinar with Emily – with a look at the latest developments in research about bullying and kids' behavior online, and a Q&A with Emily.
A free Sticks and Stones book plate, signed by Emily and mailed to you to slap inside your book.
An entry into a raffle of 25 Gabfest posters, signed by David and John and me, and mailed to you.
An entry into a raffle of 10 Gabfest T-shirts, mailed to you.
An entry into a raffle to sit in on a taping, in the D.C. studio or via Google Hangout, OR to do a cocktail chatter on the show. Your choice.
For more info about the book and the offer, visit Emily's website. Once you preorder the book, or if you've done so already, just forward your receipt in any form to gabfestpreorder@gmail.com. We'll verify it and then send you instructions on how to access your freebies when they're ready.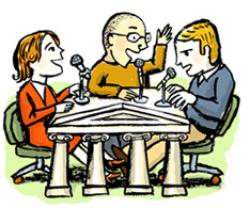 Here are some of the links and references mentioned during this week's show:
Topic ideas for next week? You can tweet suggestions, links, and questions to @SlateGabfest. The email address for the Political Gabfest is gabfest@slate.com. (Email may be quoted by name unless the writer stipulates otherwise.)
Podcast production by Mike Vuolo. Links compiled by Jeff Friedrich.