The I'm Not David Plotz Gabfest
Listen to Slate's show about Chinese activist Chen Guangcheng, the anniversary of Osama Bin Laden's death, and Tim Noah's book, The Great Divergence.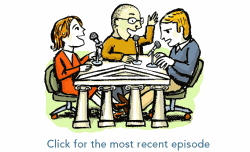 Become a fan of the Political Gabfest on Facebook. We post to the Facebook page throughout the week, so keep the conversation going by joining us there.
To listen to the discussion, use the player below:
Join David, John, and Emily for a live Gabfest on May 23 at Sixth and I Historic Synagogue in Washington, D.C. Buy tickets here.
On this week's Slate Political Gabfest, John Dickerson and Emily Bazelon are joined by Timothy Noah to discuss the case of blind Chinese activist Chen Guangcheng, President Obama's handling of the anniversary of Osama Bin Laden's death, and Tim's new book, The Great Divergence.
Here are some of the links and references mentioned during this week's show:
William Dobson's Slate piece on why China wants Cheng Guangcheng to leave.
The SNL sketch saying "Generalissimo Francisco Franco is still dead."
Jose Rodriguez Jr.'s Washington Post op-ed on how Bush's "enhanced interrogation techniques" helped lead to the killing of Osama Bin Laden.
Will Saletan's Slate piece about exploiting military success for political gain.
Osama Bin Laden's recently released letters from September 2006 to April 2011.
Tim Noah's book, The Great Divergence.
A 2003 study by Thomas Piketty and Emmanuel Saez, "Income Inequality in the United States, 1913-1998."
A 2012 study by Emmanuel Saez finding that 93 percent of income gains were captured by the top 1 percent.
Adam Davidson's New York Times Magazine piece on a former Bain partner, Edward Conard, who argues that income inequality is a good thing for the economy.
A New York Times op-ed by three NYU professors opposing NYU's planned expansion.
Emily chatters about a post in New York Magazine's Daily Intel, in which professors graded Barack Obama's old love letters.
Tim chatters about Bill Clinton's New York Times review of Robert Caro's new book, The Passage of Power.
John chatters about the Book Loft, an independent bookstore in Columbus, Ohio.
The email address for the Political Gabfest is gabfest@slate.com. (Email may be quoted by name unless the writer stipulates otherwise.)
Podcast production by Andrew Bouvé and Dale Willman. Links compiled by Aviva Shen.