The "Can We Get in on That IPO?" Gabfest
Listen to Slate's show about a super PAC's planned character attack on Obama, the political impact of social media, and the Facebook IPO.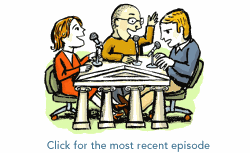 Become a fan of the Political Gabfest on Facebook. We post to the Facebook page throughout the week, so keep the conversation going by joining us there.
To listen to the discussion, use the player below:
Join David, John, and Emily for a live Gabfest next Wednesday, May 23 at Sixth and I Historic Synagogue in Washington, D.C. Buy tickets here.
This week's Slate Political Gabfest was recorded live at IAB's Innovation Days in New York City. On the show, David Plotz, Emily Bazelon, and John Dickerson discuss the New York Times' report on a conservative super PAC's plans to attack Obama's character, the impact of social media on the campaigns, and Facebook's IPO. They also do a quick Q-and-A after the show.
Here are some of the links and references mentioned during this week's show:
John chatters about how Florida's five presidential elections since 1992 have come down to a cumulative difference of 60,000 votes. He also chatters about Isaac Asimov's The Roving Mind and an interview with Asimov in 1988.
David chatters about a Commentary Magazine article about how the White House staff has inserted President Obama's name in almost every presidential biography since Calvin Coolidge.
The email address for the Political Gabfest is gabfest@slate.com. (Email may be quoted by name unless the writer stipulates otherwise.)
Podcast production by Andrew Bouvé and Dale Willman. Links compiled by Aviva Shen.