The Crazy White Racist Gabfest
Listen to Slate's show about the Trayvon Martin case and John Derbyshire, Santorum's bow-out, and Ann Romney.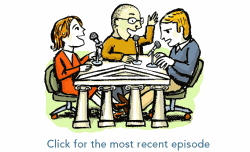 Become a fan of the Political Gabfest on Facebook. We post to the Facebook page throughout the week, so keep the conversation going by joining us there.
To listen to the discussion, use the player below:
John, David, and Emily are returning to Purdue University in Indiana for a live show next Wednesday, April 18. Register for free tickets here.
On this week's Slate Political Gabfest, David Plotz, Emily Bazelon, and Will Saletan are joined by the Atlantic's Ta-Nehisi Coates to discuss the Trayvon Martin case and the firing of National Review columnist John Derbyshire for an explosive article on race, Mitt Romney's campaign after Rick Santorum's exit from the GOP contest, and Hilary Rosen's comment that Ann Romney has "never worked a day in her life."
Here are some of the links and references mentioned during this week's show:
Ta-Nehisi's Atlantic column on the racial conversation around the Trayvon Martin case.
Will's Slate piece about the dangers of racial profiling.
Emily's Slate piece on Zimmerman's lawyers.
An ABC News/Washington Post poll finding opinions on Trayvon Martin's shooting divided along racial lines.
John Derbyshire's now infamous version of the "Talk."
Gawker's interview with John Derbyshire.
John's Slate piece on Rick Santorum's decision to drop out of the race.
Dave Weigel's Slate piece on Ann Romney and Hilary Rosen.
John's Slate piece on the four kinds of campaign controversies.
Emily chatters about Connecticut's repeal of the death penalty.
Will chatters about a study on baboons who learned how to identify real words vs. gibberish.
David chatters about a New York Times article on a Russian city that is constantly plagued by sinkholes.
The email address for the Political Gabfest is gabfest@slate.com. (E-mail may be quoted by name unless the writer stipulates otherwise.)
Podcast production by Andrew Bouvé and Dale Willman. Links compiled by Aviva Shen.