The Eat Your Broccoli Gabfest
Listen to Slate's show about the Supreme Court's Affordable Care Act arguments, possible political fallout from the decision, and the pros and cons of judicial elections.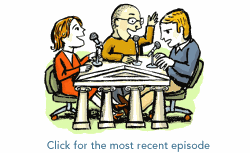 Become a fan of the Political Gabfest on Facebook. We post to the Facebook page throughout the week, so keep the conversation going by joining us there.
To listen to the discussion, use the player below:
John, David, and Emily are returning to Purdue University in Indiana for a live show on April 18. Register for free tickets here.
On this week's Slate Political Gabfest, Emily Bazelon is joined by Harvard Law professor Jed Shugerman and Yale historian Beverly Gage to discuss the Affordable Care Act arguments at the Supreme Court, what might happen if the law gets struck down, and the pros, cons, and history of judicial elections.
Here are some of the links and references mentioned during this week's show:
Supreme Court transcripts from all three days of argument.
Slate's full coverage of the Obamacare challenge.
Emily's appearance on The Colbert Report discussing the health care arguments.
Adam Liptak's New York Times piece on the parallels between health care and Wickard v. Filburn.
Professor Randy Barnett's argument that the individual mandate is unconstitutional.
Gonzales v. Raich, a 2005 case on marijuana and the Commerce Clause.
Lochner v. New York, a 1905 case concerning maximum work hours.
Conservative judge Jeffrey Sutton's 6th Circuit decision upholding the constitutionality of health care.
A Bloomberg poll finding that 75 percent of Americans believe the Supreme Court's decision on health care will be influenced by politics.
A New York Times/CBS News poll finding 85 percent of Americans approve of the requirement that insurance companies cover everyone with pre-existing conditions.
Jay Leno's interview with Mitt Romney, in which he pressed him to come up with alternatives to Obamacare.
Robert Heinlein's The Moon Is a Harsh Mistress on Audible.com.
Jed's book, The People's Courts: Pursuing Judicial Independence in America.
Einer Elhauge's National Law Journal article on the Obamacare procedural compromise.
Jed chatters about Mark Oppenheimer's Slate piece on Rep. Dave Camp and his Orthodox Jewish aide, who refuses to give his wife a religious divorce (which requires a "get" document from the husband releasing the wife).
Beverly chatters about the Trayvon Martin case and the new evidence that has emerged in the past few days.
Emily chatters about how much she enjoyed watching the first season of Game of Thrones.
The e-mail address for the Political Gabfest is gabfest@slate.com. (E-mail may be quoted by name unless the writer stipulates otherwise.)
Podcast production by Andrew Bouvé and Dale Willman. Links compiled by Aviva Shen.