The No Longer Deductible Gabfest
Listen to Slate's show about Herman Cain, Occupy Wall Street, and kids on Facebook.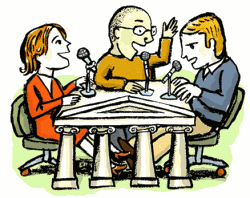 Become a fan of the Political Gabfest on Facebook. We post to the Facebook page throughout the week, so keep the conversation going by joining us there.
On this week's Slate Political Gabfest, Emily Bazelon, John Dickerson, and David Plotz discuss Herman Cain's ascent, Occupy Wall Street, and kids on Facebook.
Here are some of the links and references mentioned during this week's show: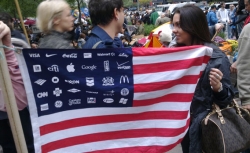 John's Slate piece about Herman Cain's gospel of simple.
Dave Weigel's Slate piece about Herman Cain's 9-9-9 plan.
The NBC News/Wall Street Journal poll that puts Herman Cain on top.
Jacob Weisberg's Slate piece comparing Occupy Wall Street and the Tea Party.
A video of Elizabeth Warren arguing that "nobody in this country got rich on his own."
Michael Hiltzik's new book, The New Deal, excerpted on Slate here.
A Mother Jones story on the myth of the $16 muffin.
Emily's New York Times Magazine piece on Facebook's pursuit of younger kids.
John chatters about George H.W. Bush's just-released oral history at the University of Virginia's Miller Center.

Emily chatters about Tom Vanderbilt's Slate piece about a traffic experiment that forced everyone to drive at the same speed.
David chatters about Florida Governor Rick Scott's proposal to shift public funds for higher education away from liberal arts and toward science and engineering.
The email address for the Political Gabfest is gabfest@slate.com. (Email may be quoted by name unless the writer stipulates otherwise.)
Podcast production by Aviva Shen.