The Crazy Negotiating Posture Gabfest
Listen to Slate's review of the week in politics.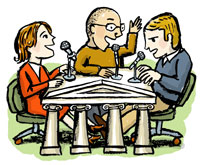 Become a fan of the Political Gabfest on Facebook. We post to the Facebook page throughout the week, so keep the conversation going by joining us there.
Listen to the Gabfest for April 15 by clicking the arrow on the audio player below:
On this week's Slate Political Gabfest, Emily Bazelon, John Dickerson, and David Plotz discuss the growing budget debate, the country's long-term fiscal troubles, and bloggers who are taking on Arianna Huffington.
Here are some of the links and references mentioned during this week's show:
A Politico piece on the 2011 budget compromise that passed the house this week.
A New York Times piece on the economic impact of austerity measures in the United Kingdom.
A Politico piece on conflicting reports about the value of the cuts in the budget deal.
A National Journal piece laying out the winners and losers in the budget deal.
A CBS News piece on last week's budget negotiations, during which President Obama asked John Boehner, "Do you think we're stupid?"
John's Slate piece on President Obama's 2012 budget pitch.
A New York Times piece comparing the budget plans of Obama and Rep. Paul Ryan.
A Forbes piece on a class action lawsuit brought against Arianna Huffington by unpaid bloggers.
Jack Shafer's Slate piece on the "bunk" case against HuffPo.
Emily chatters about an ad from this month's J. Crew catalog that shows a mother painting her son's toenails pink.
David chatters on a New Yorker piece about Chinese tourists traveling through Europe.
The e-mail address for the Political Gabfest is gabfest@slate.com. (E-mail may be quoted by name unless the writer stipulates otherwise.)
Posted on April 15 by John Griffith at 3:28 p.m.