The Don't Gang Up on David Gabfest
Listen to Slate's review of the week in politics.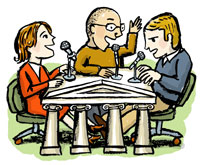 Listen to the Gabfest for Oct. 1 by clicking the arrow on the audio player below:
On this week's Slate Political Gabfest, John Dickerson, David Plotz, and Emily Bazelon discuss the Obama administration and the November midterm election, the fall docket for the Supreme Court, and the suicide of Rutgers University freshman Tyler Clementi.
Here are some of the links and references mentioned during this week's show:
President Obama's Rolling Stone interview.
Supreme Court cases Snyder v. Phelps and Connick v. Thompson.
Gawker piece on Tyler Clementi's online postings.
New York Times photo essay on the strange stuff confiscated at JFK airport.
David chatters about Jeffrey Toobin's New Yorker piece on Rachel Yould.
Emily chatters about a Washington Post story on four women who went to China and collected panda poop.
John chatters about Carl Paladino, the GOP nominee for governor in New York who threatened to "take out" a reporter from the New York Post.
We are  considering a contest where we ask listeners and readers to submit a script for a 30-second political ad that best frames the argument for voting Democratic or Republican in November's elections.  Email us at gabfest@slate.com if you are interested in this idea.
Extra tickets are available for the Oct. 13 live Gabfest at New York City's 92nd Street Y-Tribeca. Click  here  to get yours!
E-mail us at gabfest@slate.com if you are interested in attending our live Gabfest at the University of Michigan on Nov. 10.
The e-mail address for the Political Gabfest is gabfest@slate.com. (E-mail may be quoted by name unless the writer stipulates otherwise.)
Posted on Oct. 1 by Gail Sullivan at 11:50 a.m.