The Ice-Bound Edition Gabfest
Listen to Slate's review of the week in politics.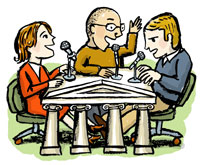 Become a fan of the Political Gabfest on Facebook. We post to the Facebook page throughout the week, so keep the conversation going by joining us there.
Listen to the Gabfest for Feb.12 by clicking the arrow on the audio player below:
On this week's Slate Political Gabfest, Emily Bazelon, John Dickerson, and David Plotz discuss President Obama and party politics, where to hold terrorist trials, and why we care about the Olympics.
Here are some of the links and references mentioned during this week's show:
The Wall Street Journal essay "Before I Die …" mentioned by John.
The listings for the front-row seat auctions for the Mar. 3 live Gabfest in New York City.
The New Yorker piece on Eric Holder and terrorism trials.
David chatters about a New York Times piece on a former felon turned Supreme Court litigator.
The e-mail address for the Political Gabfest is gabfest@slate.com. (E-mail may be quoted by name unless the writer stipulates otherwise.)
Posted on Feb. 12, 2010, by Gail Sullivan at 3:16 p.m.