DoubleX Gabfest: The Good Sex/Bad Sex Edition
Listen to Slate's show about Ginger White, "Teaching Good Sex," and Cyber Monday.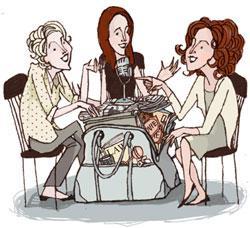 In this week's Gabfest, Slate senior editors Emily Bazelon, Kate Julian, and Hanna Rosin discuss Ginger White's confession of a 13-year affair with presidential candidate Herman Cain, a recent New York Times Magazine cover story on sex education, and the proliferation of special holiday shopping days such as Cyber Monday.
The DoubleX "coffee talk" endorsements:
Kate Julian recommends Strange Mercy, the new album from St. Vincent, aka the musician Annie Clark. She particularly likes the song "Surgeon," which is based on a passage from Marilyn Monroe's recently published diaries and which has her in the mood to see My Week with Marilyn.
Hanna Rosin reluctantly recommends Joan Didion's new memoir, Blue Nights, reluctantly only because it is so depressing. She also recommends Tayari Jones' Silver Sparrow, a wonderful novel told from the point of view of an Atlanta girl about her bigamist father.
Links to other things we mentioned: