The Culture Gabfest "Log-Toting Salinger" Edition
Slate's podcast about the new documentary Salinger, popularity in the Internet age, and changes at the Onion.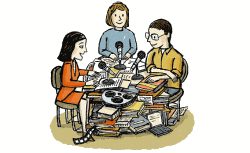 Listen to Culture Gabfest No. 260 with Stephen Metcalf, Dana Stevens, and Julia Turner with the audio player below.
The sponsors of this week's show are Stamps.com and Audible. Go to Stamps.com and use the promo code "CULTUREFEST" for your no-risk free trial and bonus offer. Get a free audiobook from Audible's collection of more than 100,000 titles and a subscription to a daily audio digest when you sign up for a 30-day free trial at www.audiblepodcast.com/culturefest.
Culturefest is on the radio! "Gabfest Radio" combines Slate's Culture and Political Gabfests in one show—listen on Saturdays at 7 a.m. and Sundays at 6 p.m. on WNYC's AM820.
Pose a question to our critics for next week's call-in show at 424-255-7833. Questions will be accepted until noon EST on Friday, Sept 13.
On this week's episode, our critics take down Salinger, Shane Salerno's new documentary about the reclusive writer. The film features a star-studded cast of talking heads, whose commentary on Salinger fluctuates between unfounded speculation and total hagiography. Next, the Gabfest turns to the concept of popularity, as defined (or redefined) by Adam Sternbergh in this week's New York Times Magazine. Adam joins the critics to discuss the ways in which the Internet has both clarified and confounded our measures of cultural popularity. Finally, the Gabfest examines changes at the Onion. After 25 years in publication, the satirical newspaper has ascended from supermarket periodical to a mini-media empire in its own right. Changes in the staff and the tone of the paper, however, have led some critics to ask: Is the Onion still funny?
Links to some of the things we discussed this week follow:
The Daily Show with Jon Stewart.
This podcast was produced by Dan Pashman. Our intern is Anna Shechtman.