The Culture Gabfest "Summer Strut" Edition
Slate's podcast about Larry David's new HBO movie Clear History, the dearth of women in philosophy, and the Summer Strut 2013 playlist.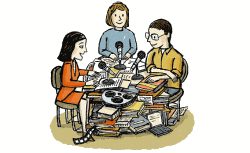 Listen to Culture Gabfest No. 256 with Stephen Metcalf, Dana Stevens, and Julia Turner with the audio player below
Culturefest is on the radio! Gabfest Radio combines Slate's Culture and Political Gabfests in one show. Listen on Saturdays at 7 a.m. and Sundays at 6 p.m. on WNYC's AM820.
On this week's episode, our critics discuss Clear History, the new HBO feature film starring Larry David. In Clear History, David plays essentially the same self-parodying, disgruntled master of pettiness he plays in Curb Your Enthusiasm, though that's not necessarily a bad thing. Next, the gabbers take on the issue of sexism and the dearth of women in philosophy. University of Sheffield philosopher Jennifer Saul lends her expertise to the discussion. Lastly, it's Summer Strut time! The 2013 Summer Strut Playlist is here—you can stop walking down the street in that melancholic earbud cocoon and emerge as the strutting, fully metamorphosized rock star you were always destined to be.
Here are links to some of the things we discussed this week:
The Summer Strut favorites talked about on this week's show include:
Outro: Wilco, Nick Lowe, and Mavis Staples play The Band's "The Weight."
This podcast was produced by Dan Pashman. Our intern is Sam McDougle.