The Culture Gabfest "Initiate Neural Handshake" Edition
Slate's podcast about Guillermo del Toro's new film Pacific Rim, Comedy Central's Drunk History, and nostalgia.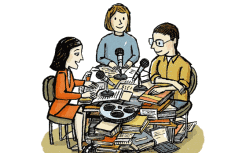 Listen to Culture Gabfest No. 252 with Stephen Metcalf, Dana Stevens, and Julia Turner with the audio player below.

The sponsors of this week's show are Skype and Stamps.com. Skype presents three documentary portraits of families separated by circumstance but brought together over the Internet. View them at www.skypestaytogether.com. Go to Stamps.com and use the promo code "CULTUREFEST" for your no-risk free trial and bonus offer.
Culturefest is on the radio! "Gabfest Radio" combines Slate's Culture and Political Gabfests in one show—listen on Saturdays at 7 a.m. and Sundays at 6 p.m. on WNYC's AM820.
On this week's episode, the gabbers take a look at Guillermo del Toro's new science-fiction film Pacific Rim. Is it the rare imaginative blockbuster we've been waiting for, or just more of that same old CGI-doused, cash-cow popcorn filmmaking we can't avoid? Our critics then discuss Drunk History, a new Comedy Central series with a simple premise: Get funny people debilitatingly inebriated, have them attempt to recall an important episode of American history, and get famous actors to perform a reenactment based on the stumbling narrative. The show was born from a 2007 Funny or Die video series of the same name. Finally, a recent New York Times article by journalist John Tierney argued that nostalgia is good for you. Our critics consider the place of nostalgia in pop psychology, how the term has often been misused and simplified, and their own thoughts on nostalgia.
Here are links to some of the things we discussed this week:
Julia: The 1999 comedy Dick.
Outro: "Don't Look Back" by She & Him.
You can email us at culturefest@slate.com.

This podcast was produced by Dan Pashman. Our intern is Sam McDougle.