The Culture Gabfest Bondage Trousers Edition
Slate's podcast about the new USA series Graceland; the "Punk: Chaos to Couture" exhibit at the Met; and when it's OK to just plain hate a band, book, or movie.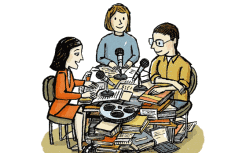 Listen to Culture Gabfest No. 246 with Dana Stevens and June Thomas with the audio player below.

Culturefest is on the radio! Gabfest Radio combines Slate's Culture and Political Gabfests in one show. Listen on Saturdays at 7 a.m. and Sundays at 6 p.m. on WNYC's AM820.
On this week's episode, our critics review the USA network's new series Graceland, a simultaneously sunny and gritty show about undercover agents living in a Real World-esque beach mansion; Los Angeles Times entertainment writer Meredith Blake guests. Second, we're joined by Slate columnist and Barney's creative ambassador Simon Doonan to discuss the Met's new retrospective exhibit "Punk: Chaos to Couture." Finally, Slate's new music critic Carl Wilson joins the Gabfest to take on the topic of hatred as a critical tool: When is it OK to just say, "I can't stand this band, book, or movie?"
Here are links to some of the things we discussed this week:
June: The entertaining, eclectic new website about all things television, Previously.tv.
Carl: Author Josh Kun's collection of old Southern California sheet music, new recordings, a live concert series, and overall multimedia treasure chest, "Songs in the Key of L.A."
Dana: Fill the Void, a new Israeli film about an arranged marriage in an ultra-Orthodox Jewish family.
Outro: "That's the Way It Is," by Celine Dion
This podcast was produced by Julia Furlan. Our intern is Sam McDougle.