The Culture Gabfest: Auteurs Gone Wild Edition
Slate's podcast about Michael Cimino's Heaven's Gate, the Reddit-based community Gaybros, and the art of book recommendations.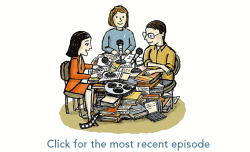 Listen to Culture Gabfest No. 237 with Stephen Metcalf, Dana Stevens, and June Thomas with the audio player below.

The sponsors of today's show are 23andme.com and Stamps.com. Go to 23andme.com/Slate for your $99 personal genetic profile. Go to Stamps.com and use the promo code "CULTUREFEST" for your no-risk free trial and bonus offer.
Culturefest is on the radio! "Gabfest Radio" combines Slate's Culture and Political Gabfests in one show—listen on Saturdays at 7 a.m. and Sundays at 6 p.m. on WNYC's AM820.
On this week's episode, our critics ponder Michael Cimino's epic and extravagant Heaven's Gate, the legendary flop that sank its studio but has found acclaim with a new director's cut three decades after its brief initial release. Then, Slate editorial assistant Bryan Lowder joins them to discuss Gaybros, the online and IRL community of gay men with traditionally manly hobbies. Finally, in light of Amazon's acquisition of the social reading site Goodreads, the Culturefesters discuss the art of book recommending and share their go-to recommendations.
Here are links to some of the things we discussed this week:
June's pick: John McPhee's 1969 book The Crofter and the Laird, about returning to his ancestral homeland in the Scottish Inner Hebrides.
Outro: "Recommendation" by Little Dragon.
You can email us at culturefest@slate.com.

This podcast was produced by Julia Furlan. Our intern is Sally Tamarkin.