The Culture Gabfest: Meat Your God Edition
Slate's show about the History Channel's miniseries The Bible, the 2012 Vida Count of women in the literary arts, and the death of the pun.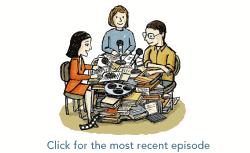 Listen to Culture Gabfest No. 234 with Stephen Metcalf, Dana Stevens, and John Swansburg with the audio player below:
The sponsors of today's show are Stamps.com and Audible.com. Go to Stamps.com and use the promo code "CULTUREFEST" for your no-risk free trial and bonus offer. Get a free audiobook from Audible's collection of more than 100,000 titles and a subscription to a daily audio digest when you sign up for a 30-day free trial at www.audiblepodcast.com/culturefest.
Culturefest is on the radio! "Gabfest Radio" combines Slate's Culture and Political Gabfests in one show—listen on Saturdays at 7 a.m. and Sundays at 6 p.m. on WNYC's AM820.
On this week's episode, Slate's editorial director John Swansburg joins Dana and Stephen to discuss the History Channel's miniseries The Bible, its kitschy tableaus and diorama feel and how Mark Burnett interprets and retells the stories of the Bible. The Gabfesters then discuss the 2012 Vida Count and what can be learned and extrapolated from the tally of women published by major literary publications. Finally, our critics discuss a veritable wordpacalypse—the death of the pun and the rise of the neolexic portmanteau.
Here are links to some of the things we discussed this week:
Dana's pick: You Are One of Them the forthcoming novel by Elliott Holt about the friendship of two girls in Washington, D.C. in the 1980's, with a Cold War backdrop. And here's Holt's #TwitterFiction story, released tweet by tweet.
John's pick: The brilliant sitcom Cheers, available streaming on Netflix.
Stephen's pick: The Swedish pop bands Club 8 (dreamy, atmospheric, and melodic) and First Aid Kit (inspired by American roots music).
Outro: "Western Hospitality" by Club 8.
You can email us at culturefest@slate.com.

This podcast was produced by Julia Furlan. Our intern is Sally Tamarkin.