The Culture Gabfest: On Tenterhooks Edition
Slate's podcast about the movie Flight, Disney's purchase of Lucasfilm, and the poetry of the hashtag.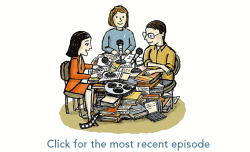 Listen to Culture Gabfest No. 216 with Stephen Metcalf, John Swansburg, and Julia Turner by clicking the arrow on the audio player below:

The sponsors of today's show are Stamps.com and the Emmy-winning PBS series Independent Lens, the weekly series that showcases the best in documentary film every Monday night at 10PM on PBS. Go to Stamps.com and use the promo code "CULTUREFEST" for your no-risk free trial and bonus offer.
Culturefest is on the radio! "Gabfest Radio" combines Slate's Culture and Political Gabfests in one show—listen on Saturdays at 7 a.m. and Sundays at 6 p.m. on WNYC's AM820.
On this week's Culturefest, our critics are joined by Slate Editorial Director John Swansburg to discuss Flight, the new Robert Zemeckis movie starring Denzel Washington, and whether it's a deft and emotionally complex genre mashup or a cliché-laden addiction movie. The Gabfesters then discuss Disney's purchase of Lucasfilm: Does it mean doom or rescue for the Star Wars franchise? Finally, they consider the poetry and comedy of the Twitter hashtag, its pithy functionality, and its potential future as a marketing super tool.
Here are some links to the things we discussed this week:
John's pick: The opera The Rake's Progress, written by Igor Stravinksy, based on William Hogarth's engravings, with libretto by W. H. Auden and Chester Kallman. This is an approachable introduction to opera for the nonbuff.
Julia's pick: The song "In a Big City" by Titus Andronicus, the band that sounds like what the Pogues would sound like if they were from New Jersey in the early 1990s.
Stephen's pick: The Tim Allen movie Galaxy Quest which lovingly spoofs Star Wars and the space movie genre.
Outro: "In a Big City" by Titus Andronicus
This podcast was produced by Dan Pashman. Our intern is Sally Tamarkin.