The Culture Gabfest: Get Thee Behind Me, Satan Edition
Slate's podcast about The Master, The End of Men, and the NYC soda ban.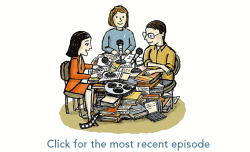 Listen to Culture Gabfest No. 209 with Stephen Metcalf, Hanna Rosin, Dana Stevens, and Julia Turner by clicking the arrow on the audio player below:

The sponsors of today's show are Stamps.com and Audible.com. Go to Stamps.com and use the promo code "CULTUREFEST" for your no-risk free trial and bonus offer. Get a free audiobook from Audible's collection of more than 100,000 titles and a subscription to a daily audio digest when you sign up for a 30-day free trial at www.audiblepodcast.com/culturefest.
Culturefest is on the radio! "Gabfest Radio" combines Slate's Culture and Political Gabfests in one show—listen on Saturdays at 7 a.m. and Sundays at 6 p.m. on WNYC's AM 820.
On this week's Culturefest, our critics discuss Paul Thomas Anderson's new movie The Master, from its remarkable cinematography to the powerful performances in this epic story about the complicated relationship between a charismatic leader and a drifting WWII veteran. The Gabfesters are then joined by Slate DoubleX co-founder and Atlantic senior editor Hanna Rosin to discuss her new book The End of Men: And the Rise of Women, why we're still uncomfortable with feminized men and dominant women and what the ascendancy of women means both economically and culturally. Finally, they talk sugary drinks, pondering the recent NYC soda ban, the benevolent dictatorship of the nanny state, and the nutrition science behind limiting refined sugars and the public's access to them.
Here are some links to the things we discussed this week:
Dana Stevens on The Master for Slate.
Paul Thomas Anderson's movies There Will Be Blood, Boogie Nights, and Magnolia.
The Master's soundtrack, composed by Radiohead's Jonny Greenwood.
Hanna Rosin's book The End of Men: And the Rise of Women.
Hanna's 2010 Atlantic cover story "The End of Men" and her recent New York Times Magazine piece "Who Wears the Pants in this Economy?"
Steven Pinker, author of The Better Angels of Our Nature, argues that as the number of women in world leadership roles increases, human violence decreases.
The conservative author and pundit Charles Murray and his views on marriage.
The NYC Board of Health's approval of a ban on the sale of sugary drinks in amounts greater than 16 ounces at restaurants, bodegas, movie theatres, stadiums, and food carts.
Slate's Dan Engber on the science behind the soda ban.
New York Times columnist Mark Bittman on sugary drinks and the NYC ban and the upside of governmental "nannying" when it comes to nutrition.
Dana's pick: The album notes and artist write-ups on your Pandora radio stations provided by AllMusic.com.
Julia's pick: Firefly, Joss Whedon's short-lived space western TV series from 2002.
Stephen's pick: The Kings of Convenience's fragile and beautiful take on A-ha's "Manhattan Skyline."
Outro: "Manhattan Skyline" by Kings of Convenience
You can email us at culturefest@slate.com.

This podcast was produced by Chris Wade and Andy Bowers. Our intern is Sally Tamarkin.