The Culture Gabfest: Bringing a Gun to a Puppy Fight Edition
Slate's podcast about Bob Dylan's new album Tempest, the 20th anniversary of the movie Sneakers, and the Harvard cheating scandal.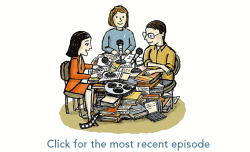 Listen to Culture Gabfest No. 208 with John Dickerson, Farhad Manjoo Stephen Metcalf, Dana Stevens, and John Swansburg by clicking the arrow on the audio player below:
The sponsor of today's show is Audible.com. Get a free audiobook from Audible's collection of more than 100,000 titles and a subscription to a daily audio digest when you sign up for a 30-day free trial at www.audiblepodcast.com/culturefest.
Culturefest is on the radio! "Gabfest Radio" combines Slate's Culture and Political Gabfests in one show—listen on Saturdays at 7 a.m. and Sundays at 6 p.m. on WNYC's AM820.
On this week's Culturefest, a panoply of Slate staffers join in on the gabbing. First, our critics are joined by Slate chief political correspondent (and in-house Dylanologist) John Dickerson to discuss Bob Dylan's new album Tempest and how its sometimes dark and violent themes fit within Dylan's 35-album body of work. Next, they are joined by Slate culture editor John Swansburg to revisit the movie Sneakers on the occasion of its 20th birthday and consider its place as an all time favorite for members of the generation between X and Y. Finally, the Gabfesters are joined by Slate technology columnist Farhad Manjoo to consider the cheating scandal at Harvard, whether it is a scandal at all and why collaboration in college should be encouraged rather than outlawed.
Here are some links to the things we discussed this week:
Bob Dylan's 35th studio album Tempest and the video for "Duquesne Whistle," one of the album's tracks.
Tempest' title track, a 14-minute song about the sinking of The Titanic as well as the album's singles "Long and Wasted Years" and "Early Roman Kings."
Dylan's earlier ripped-from-the-headlines songs, including "The Lonesome Death of Hattie Carroll."
Bob Dylan's albums Down in the Groove (1988), Time Out of Mind (1997), Love & Theft (2001), Modern Times (2006), and Together Through Life (2009).
"Brownsville Girl." co-written with Sam Shepard, from Dylan's 1986 album Knocked Out Loaded.
No Direction Home, Martin Scorsese's documentary about Bob Dylan.
Samuel Butler's 1903 novel The Way of All Flesh.
Jody Rosen on Tempest for The New Yorker's website.
Slate's Culturebox discussion about the 20th anniversary of the release of the movie Sneakers as well as Stephen Tobolowsky's memories of making the movie, Nicholas Britell on what makes the movie's score so great, and Lowen Liu on his attempt to recreate his favorite scene from Sneakers and his explanation of how a bit of Sneakers trivia ended up on a real U.S. intelligence agency uniform.
Manhattan and Battle of Algiers, the movies you don't watch when you decide to watch Sneakers instead.
Bernardo Bertolucci's 1970 movie The Conformist.
The 1993 movie Tombstone.
The Harvard cheating scandal and Slate's Farhad Manjoo on why it's neither cheating nor a scandal.
Genre thriller authors Thomas Harris, Patricia Highsmith, and Ross MacDonald.
Outro: "Tempest" by Bob Dylan
You can email us at culturefest@slate.com.

This podcast was produced by Dan Pashman. Our intern is Sally Tamarkin.