The Culture Gabfest: Tasty Medieval Cockentrice Edition
Slate's podcast about the 60th anniversary of Singin' in the Rain, ABC's Time Machine Chefs, and the niceness of literary criticism.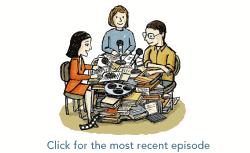 Listen to Culture Gabfest No. 205 with Stephen Metcalf, Dana Stevens, and Julia Turner by clicking the arrow on the audio player below:
The sponsors of today's show are Stamps.com and Audible.com. Go to Stamps.com and use the promo code "CULTUREFEST" for your no-risk free trial and bonus offer. Get a free audiobook from Audible's collection of more than 100,000 titles and a subscription to a daily audio digest when you sign up for a 30-day free trial at www.audiblepodcast.com/culturefest.
Listen this Saturday, Aug. 25, to the public radio debut of Gabfest Radio,which combines Slate's Culture and Political Gabfests in one show. Gabfest Radio will air on Saturdays at 7 a.m. and Sundays at 6 p.m. on WNYC's AM 820.
On this week's Culture Gabfest, our critics discuss Singin' in the Rain and ponder the vision of its star and co-director Gene Kelly. They then consider the short-lived ABC show Time Machine Chefs and wonder why food reality TV has become a cultural force. Finally, the Gabfesters discuss the current state of literary criticism. Has social media made online book culture "too nice?"

Here are some links to the things we discussed this week:
The 60th anniversary Blu-Ray/DVD release of Singin' in the Rain.
Roger Ebert on Singin' in the Rain.
The 1952 New York Times review of Singin' in the Rain.
Joan Acocella on the 60th anniversary of Singin' in the Rain for The New Yorker.
The movies Casablanca and Citizen Kane.
Also co-directed by Gene Kelly and Stanley Donen, On the Town.
Singin' in the Rain's producer Arthur Freed, and co-stars Gene Kelly, Donald O'Connor, Debbie Reynolds, and Jean Hagen.
The film director Sergei Eisenstein.
The British Film Institute's magazine Sight & Sound.
Troy Patterson on Time Machine Chefs for Slate.
The bumper crop that is this fall's food reality TV lineup, including Burger Land, Chef Race, and Chef Wants a Wife.
Medieval England's popular entree, the cockentrice.
Competition-based reality TV shows including America's Next Top Model, Project Runway and So You Think You Can Dance.
Jacob Silverman for Slate on the "epidemic of niceness in online book culture."
Dwight Garner for the New York Times Magazine calling for critics who are more critical.
Laura Miller makes the case for positive book reviews for Salon.
J. Robert Lennon for Salon on how to write a negative review.
Flavorwire's roundup of famous literary feuds.
McSweeney's and the Believer, literary journals founded by Dave Eggers.
The essay by Heidi Julavits that launched the Believer and lobbies against snark in book reviews.
Forthcoming novels by Zadie Smith and Michael Chabon respectively, NW: A Novel and Telegraph Avenue: A Novel.
Dana's pick: In honor of the director Tony Scott who died this week, his 1993 movie True Romance, written by Quentin Tarantino and starring Christian Slater and Patricia Arquette as a couple on the run from gangsters, and featuring an unforgettable ensemble cast.
Julia's pick: Hit by Pitch: Ray Chapman, Carl Mays and the Fatal Fastball, the graphic history by Molly Lawless that tells the story of the two men involved in major league baseball's only fatal at-bat.
Stephen's pick: "Boxer" by the band Lovers from the album Dark Light.