The Culture Gabfest, 'I'll Have What She's Having' Edition
Listen to Slate's show about the new Steven Soderbergh movie Magic Mike, the legacy of writer and director Nora Ephron, and Anderson Cooper coming out as gay.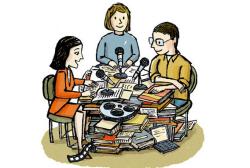 Listen to Culture Gabfest No. 198 with Stephen Metcalf, Dana Stevens, June Thomas, and Julia Turner by clicking the arrow on the audio player below:

The Summer Strut playlist is back—Strut along on Spotify! Please note that submissions for this year's playlist are now closed.
On this week's Culture Gabfest, our critics discuss the new Steven Soderbergh movie Magic Mike and debate whether it's a vehicle of pure pleasure delivery or an allegorical tale about economic dislocation during the recession. The Gabfesters then discuss reactions to the death of Nora Ephron and her legacy as a writer and director, her insights on American womanhood, and her knack for the life beautifully lived. They are then joined by Slate culture critic June Thomas to discuss Anderson Cooper's coming out as gay and the calculations celebrities may make when deciding whether to emerge from the "glass closet."
Here are some links to the things we discussed this week:
Dana's pick: The HBO documentary The Artist is Present, a fascinating behind-the-scenes look at the mounting of the recent Marina Abramovic retrospective at The Museum of Modern Art
June's picks: The online international broadcast channel Link TV and one of its offerings, the Danish television drama Borgen; Syfy's Canadian and somewhat supernatural series Lost Girl; and The Skinny, a comedy about a group of four young black gay men
Outro: "Heaven" covered by Brandi Carlile
You can email us at culturefest@slate.com.

This podcast was produced by Dan Pashman. Our intern is Sally Tamarkin.