The Culture Gabfest, "Wild Rumpus" Edition
Maurice Sendak, art market economics, and the phenomenon of hate-watching.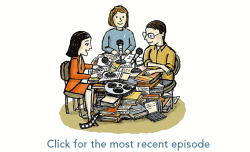 Listen to Culture Gabfest No. 190 with Stephen Metcalf, Felix Salmon, Dana Stevens, and Julia Turner by clicking the arrow on the audio player below:

Get your 30-day free trial from our sponsor Audible.com, which includes a credit for one free audiobook, here. (Audiobook of the week: "Where the Wild Things Are" by Maurice Sendak and narrated by Peter Schickele.)
In this week's Gabfest, our critics discuss the work of beloved children's author Maurice Sendak. Also, a conversation with Reuters' Felix Salmon about the recent sale of The Scream and irrational and opaque art markets. Plus, the gabbers examine what it means to hate-watch a TV show.
Here are some links to the things we discussed this week:
Outro: "Nonstop Disco Powerpack" by The Beastie Boys.
This podcast was produced by Mark Phillips.