The Culture Gabfest, "Kablammo! Snappy Rejoinder" Edition
The Avengers, the future of e-book pricing, and rating your online clout.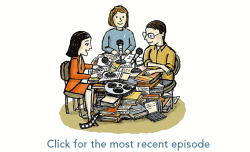 Listen to Culture Gabfest No. 189 with Stephen Metcalf, Dana Stevens and Julia Turner by clicking the arrow on the audio player below:

Get your 30-day free trial from our sponsor Audible.com, which includes a credit for one free audio book, here. (Audiobook of the week: "The Ruby in the Smoke: Sally Lockhart Trilogy" by Philip Pullman and narrated by Anton Lesser).

In this week's Gabfest, our critics discuss Joss Whedon's summer blockbuster, The Avengers. Also, they chat with Slate's Matthew Yglesias about the future of e-books and the publishing industry. Plus, Slate's Seth Stevenson discusses how the company Klout is now tracking our online clout.
Here are some links to the things we discussed this week:
The Culture Gabfest weekly endorsements:
Outro: "Everybody Needs Somebody to Love" by Solomon Burke.