The Culture Gabfest, "Summer Strut" Edition
Listen to Slate's show about the new New York Times documentary Page One, Robert Nozick, and great summer jams to kick-start your day.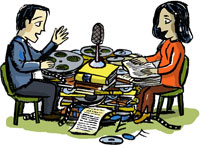 Listen to Culture Gabfest No. 144 with Stephen Metcalf, Dana Stevens, and Julia Turner by clicking the arrow on the audio player below or  opening this player in another tab:


Don't miss a single episode of the Culture Gabfest. Subscribe to the  free Culturefest podcast in iTunes or directly with  our RSS feed. You can also download this week's episode  here. And join the lively conversation on the Culturefest Facebook here:
This podcast is brought to you by Bing. Wondering which summer movie to see? Which summer festival to go to? Which new album to buy? Bing will help you decide. Just click the "entertainment" button on the Bing home page to get the latest on music, movies, TV and video games. Plus, with Bing's social search feature, your Facebook friends' "likes" will show up right there on your Bing search results. The Culture Gabfest thanks Bing for its support.
This podcast is also brought to you by FreshBooks, the easy online invoicing service that gets you paid quickly, and makes you look professional. Get started with a free package at FreshBooks.com. That's FreshBooks.com for easy online invoicing, and tell them Slate sent you.
In this week's Culture Gabfest, our critics Stephen Metcalf, Dana Stevens, and Julia Turner discuss Andrew Rossi's new newsroom documentary Page One: Inside the New York Times, libertarian philosopher Robert Nozick—and why even he abandoned his movement—and listeners' suggestions for the summer jams that will get you fired up to start your day.
Here are some links to the things we discussed this week:
Some "summer strut" tracks on YouTube:
Kid Cudi's "Pursuit of Happiness," Groove Armada's "I See You Baby," Joe Strummer and The Mescaleros' "Get Down Moses," Steely Dan's "Peg," R. Kelly's "Ignition (Remix)," Wiz Khalifa's "No Sleep," Foster The People's "Pumped Up Kicks," The Dollyrots' cover version of "Brand New Key," The Sundays' "Summertime," Broken Social Scene's "7/4 (Shoreline)," and Cut Copy's "Take Me Over" (on SoundCloud).
The Culture Gabfest weekly endorsements:
Outro: "Summertime" by the Sundays.
This podcast was produced by Andy Bowers. Our intern is Forrest Wickman.
Correction, June 23, 2011: This article originally misidentified the New York Times Book Review. (Return to the corrected sentence.)