The Culture Gabfest, "Why All These Stupid Altruistic Urges?" Edition
Listen to Slate's show about the new Ayn Rand adaptation Atlas Shrugged Part 1, the New York Times Magazine cover story "Is Sugar Toxic?," and the Civil War blog Disunion.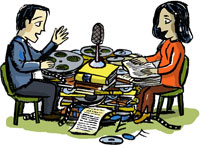 Listen to Culture Gabfest No. 136 with Daniel Engber, Adam Goodheart, Stephen Metcalf, Dana Stevens, and Julia Turner by clicking the arrow on the audio player below:
You can also download the program  here, or you can subscribe to the weekly Culture Gabfest podcast feed  via iTunes or directly with our   RSS feed. Find the Culturefest Facebook page   here. Leave us a note and see what other listeners have to say about the latest podcast.
The Slate Culture Gabfest is brought to you by Starbucks. With over 87,000 drink combinations, Starbucks makes your signature espresso just the way you want it. Create yours at  www.mystarbuckssignature.com.
In this week's Culture Gabfest, our critics Stephen Metcalf, Dana Stevens, and Julia Turner discuss Atlas Shrugged Part 1, the new film adaptation of Ayn Rand's hugely influential capitalist novel. They are then joined by Slate senior editor Daniel Engber to chat about Gary Taubes' much-discussed New York Times Magazine article "Is Sugar Toxic?" For their final segment, they are joined by historian and New York Times columnist Adam Goodheart to discuss his new book 1861 and his writing for the New York Times' acclaimed Civil War blog Disunion.
Here are some links to the things we discussed this week:
The Culture Gabfest weekly endorsements:
Outro: "Clementine" by Elliott Smith.
This podcast was produced by Jesse Baker. Our intern is Forrest Wickman.