The Culture Gabfest, "Drinkable Suede" Edition
Listen to Slate's show about the films of director Sidney Lumet, PBS' Vine Talk, and Meghan O'Rourke's new memoir The Long Goodbye.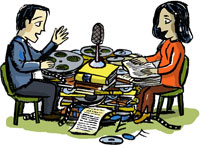 Listen to Culture Gabfest No. 134 with Stephen Metcalf, Meghan O'Rourke, Dana Stevens, and Julia Turner by clicking the arrow on the audio player below:
You can also download the program  here, or you can subscribe to the weekly Culture Gabfest podcast feed  via iTunes or directly with our   RSS feed. Find the Culturefest Facebook page  here. Leave us a note and see what other listeners have to say about the latest podcast.
The Slate Culture Gabfest is brought to you by Starbucks. With over 87,000 drink combinations, Starbucks makes your signature espresso just the way you want it. Create yours at  www.mystarbuckssignature.com.
In this week's Culture Gabfest, our critics Stephen Metcalf, Dana Stevens, and Julia Turner discuss the classic films of recently deceased director Sidney Lumet, and PBS' new celebrity wine talk show Vine Talk. For their third segment, they're joined by Slateculture critic Meghan O'Rourke to discuss her new memoir about grieving The Long Goodbye.
Here are some links to the things we discussed this week:
The Culture Gabfest weekly endorsements:
Outro: "Rock and Roll Ain't Noise Pollution" by AC/DC as performed by The Orchestral Academy of Los Angeles.
This podcast was produced by Jesse Baker. Our intern is Forrest Wickman.