The Culture Gabfest, "Congratulations: Your Marriage Is Probably Doomed" Edition
Listen to Slate's podcast about Blue Valentine, the year in movies, and Google's new Ngram database.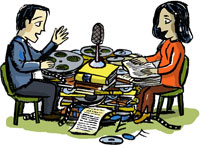 Listen to Culture Gabfest No. 120 with Stephen Metcalf, Dana Stevens and Julia Turner by clicking the arrow on the audio player below:­­­
You can also download the program  here, or you can subscribe to the weekly Culture Gabfest podcast feed  via iTunes or directly with our   RSS feed. Find the Culturefest Facebook page   here. Leave us a note and see what other listeners have to say about the latest podcast.

In this week's Culture Gabfest, our critics Stephen Metcalf, Dana Stevens, and Julia Turner discuss Ryan Gosling and Michelle Williams in Blue Valentine, the year 2010 in film, and Google's new Ngram database.

Here are some links to the things we discussed this week:

The official Web site for the movie Blue Valentine.
Dana's Blue Valentine review in Slate.
The British cultural movement of "kitchen sink realism."
The 1955 Delbert Mann film Marty.
The year in film as discussed by theSlate 2010 "Movie Club."
Dana's list of her top movies of 2010.
Julia's favorite movies of 2010: Toy Story 3, The Kids Are All Right, Inside Job, Black Swan, and Machete.
Steve's favorite movies of 2010: Catfish, The Social Network, Inside Job, Blue Valentine, Toy Story 3, Inception, and Tangled.
The animated short "Bambi Meets Godzilla."
The Google Books Ngram Viewer.
The attendant paper on Ngrams and "culturomics" in Science.
Geoffrey Nunberg's response to that paper in The Chronicle of Higher Education.
The triumph of culture over politics and sports.


The Culture Gabfest weekly endorsements:

Julia's picks: the New York Times' interactive visualization of U.S. Census data, Hilary Mantel's historical novel Wolf Hall, and the 1998 Semisonic hit "Closing Time."
Dana's pick: The Royal Ballet's Tales of Beatrix Potter on DVD (here's a trailer).
Steve's picks: Paul Fussell's literary history The Great War and Modern Memory, and the song "You and Me" by Penny & The Quarters (available soon on the Blue Valentine soundtrack).
Outro: "You and Me" by Penny & The Quarters.

You can e-mail us at culturefest@slate.com.

This podcast was produced by Jesse Baker. Our intern is Forrest Wickman.