The Culture Gabfest, "Phoning It In" Edition
Listen to Slate's show about the week in culture.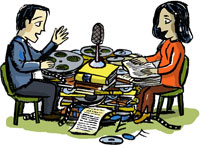 Listen to Culture Gabfest No. 119 with Stephen Metcalf, Dana Stevens, and June Thomas by clicking the arrow on the audio player below:
You can also download the program  here, or you can subscribe to the weekly Culture Gabfest podcast feed  via iTunes or directly with our   RSS feed. Find the Culturefest Facebook page   here. Leave us a note and see what other listeners have to say about the latest podcast.
This episode of the Slate Culture Gabfest and a special Insider Survey for this podcast are brought to you by the new 2011 Hyundai Equus. Discover the Hyundai Equus, the new premium luxury sedan from Hyundai, offering first-class refinement and features, including an iPad equipped with the Equus Owners Manual App. And take the Insider Survey for the Culture Gabfest at podcastinsidersurvey.com.
In this week's Culture Gabfest, Dan Kois, Dana Stevens, and June Thomas discuss Somewhere, the latest film by director Sofia Coppola; then Stephen Metcalf joins Dana and June from his snowy lair to talk about the best TV shows of the year and New Year's resolutions—what's the point?
Here are some links to the things we discussed this week:
June's Top TV Shows of 2010 (in no particular order)
The Culture Gabfest weekly endorsements:
Outro: Wolfgang Amadeus Phoenix's "Love Like a Sunset, Pt.1" from the Somewhere soundtrack.
This podcast was produced by Jesse Baker. Our intern is Forrest Wickman.