The Culture Gabfest, "Chung Chung" Edition
Listen to Slate's show about the week in culture.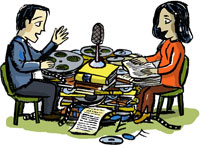 Listen to Culture Gabfest No. 88 with Stephen Metcalf, Jody Rosen, Dana Stevens, John Swansburg and Julia Turner by clicking the arrow on the audio player below:
You can also download the program  here, or you can subscribe to the weekly Culture Gabfest podcast feed  via iTunes  or directly with our  RSS feed. Find the Culturefest Facebook page here. Leave us a note and see what other listeners have to say about the latest podcast.
Get your 14-day free trial from our sponsor Audible.com, which includes a credit for one free audiobook,  here. (Audiobook of the week: The Girl With the Dragon Tattoo and The Girl Who Played With Fire, written by Stieg Larsson and read by Simon Vance and Martin Wenner.)
In this week's Culture Gabfest, our critics Stephen Metcalf, Jody Rosen, Dana Stevens, John Swansburg, and Julia Turner discuss Law & Order's final episode, the 50-year-old film Breathless, and the vocal stylings of the pop sensation Janelle Monáe.
Here are some links to the things we discussed this week:
The Culture Gabfest weekly endorsements:
Posted on May 26 by Jesse Baker at 11:41 a.m.