The Culture Gabfest, "First Ever Live Gabfest" Edition
Listen to Slate's show about the week in culture.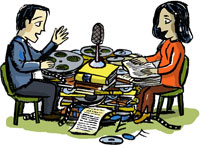 Listen to Culture Gabfest No. 87 with Stephen Metcalf, Dana Stevens, and Julia Turnerby clicking the arrow on the audio player below:
You can also download the program here, or you can subscribe to the weekly Culture Gabfest podcast feed via iTunesor directly with our RSS feed. Find the Culturefest Facebook page here. Leave us a note and see what other listeners have to say about the latest podcast.
You can see pictures of this week's live show here. The live show includes a drinking game. To play along at home, here is the list of words and phrases to listen for.

Take a drink:
1) Any time Steve says "Daaaaannnna" or "Juuuuulia."
2) Any time a gabber makes a reference to Steve's veganism.
3) Any time a gabber says "walk me through."
4) Any time a gabber says "fuck."
5) Any time Steve refers to something as "incredible" or "incredibly."
6) Any time Julia refers to something Dana or Steve is wearing.
7) Any time a gabber refers to something being in someone's "wheelhouse."
8) Any time a gabber (or more Steve) refers to a dispute he is having with Jody Rosen.
9) Any time a gabber says the words "grayscale croissant."
10) Any time Dana mentions the Lone Star State or says "y'all."
Get your 14-day free trial from our sponsor Audible.com, which includes a credit for one free audiobook, here. (Audiobook of the week: Lunar Park, written by Bret Easton Ellis and read by James Van Der Beek.)
In this week's Culture Gabfest, our critics Stephen Metcalf, Dana Stevens, and Julia Turner discuss director Ridley Scott's retelling of the Robin Hood myth, Sam Lipsyte's novel The Ask,and ongoing dispute over Facebook's privacy settings.

Here are some links to the things we discussed this week:

The official site for the new Robin Hood.
Some literary origins of the legend of Robin Hood.
Karina Longworth makes the case for the film being a Tea Party allegory in The Village Voice.
Morris dancing's Wikipedia page.
The IMDB page for the 1939 film The Adventures of Robin Hood, starring Errol Flynn and Basil Rathbone.
Russell Crowe and his merry men singing "Beautiful Girls."
Pieces on Sam Lipsyte's novel in the New York Times and in Slate.
Thomas Pynchon's novel Gravity's Rainbow.
The possible IM exchange between a 19-year-old Mark Zuckerberg and an unknown friend.
Facebook executives answer privacy questions in the New York Times.


The Culture Gabfest weekly endorsements:

Jody's pick: Giuseppe Tartini's The Devil's Sonata, performed by Andrew Manze.
June's pick: Bass for Picasso, by playwright Kate Moira Ryan.
Julia's pick: Charles Harper's book Birds and Words.
Dana's pick: The documentary The Wild and Wonderful Whites of West Virginia.
Steve's pick: Jody's biceps, the music of Lady Gaga, and the works of jazz musician Hank Jones.

You can e-mail us at culturefest@slate.com.
Posted on May 19 by Jesse Baker at 11: 49 a.m.