The Culture Gabfest, "Ooh La La" Edition
Listen to Slate's show about the week in culture.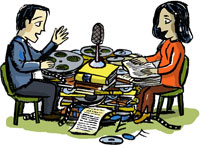 Listen to Culture Gabfest No. 82 with Stephen Metcalf, Jody Rosen, Dana Steven and Julia Turner by clicking the arrow on the audio player below:
You can also download the program here, or you can subscribe to the weekly Culture Gabfest podcast feed via iTunesor directly with our RSS feed. Find the Culturefest Facebook page here. Leave us a note and see what other Culturefest listeners have to say about the latest podcast.
In this week's Culture Gabfest, our critics Stephen Metcalf, Jody Rosen, Dana Stevens and Julia Turner discuss David Simon's new HBO show Treme, the death of the British punk impresario Malcolm McLaren, and the comedy of Tina Fey.

Here are some links to the things we discussed this week:

HBO's official Web page for Treme.
Slate TV critic Troy Patterson's review of Treme.
Jody Rosen's remembrance of Malcolm McLaren on Slate.
Web sites for the New York Dolls and Bow Wow Wow.
Vivienne Westwood's 2010 fashion collection.
The Sex Pistols' documentary The Filth and the Fury.
Jessica Grose's take on Tina Fey and her Cathy trope on Slate.
Tina Fey's ooey, gooey brownie husband skit on Saturday Night Live.
Slate's Dana Stevens spoiler special on and review of Date Night.
The "Liz Lemonism" discussion on the blogs Tiger Beatdown and Feministing.com.

The Culture Gabfest weekly endorsements:
Posted by Jesse Baker on April 14, 12:22 p.m.