Amicus: Ready for Her Close-Up
The upcoming Ruth Bader Ginsburg biopic is the splashiest dramatization of a Supreme Court justice in recent memory, but it's hardly the only one.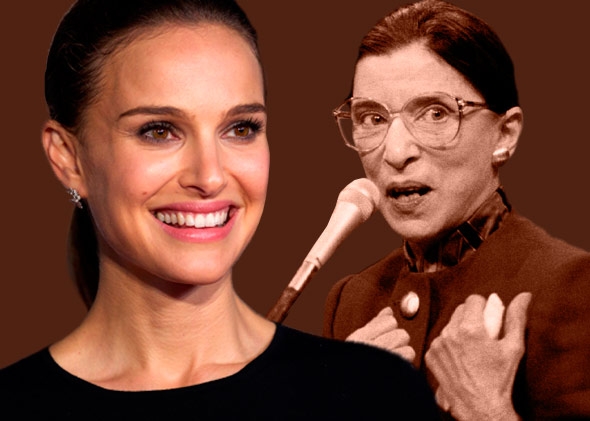 Listen to Episode 18 of Slate's Amicus:
The biggest Supreme Court news this week was Natalie Portman's upcoming role as Justice Ruth Bader Ginsburg in the film On the Basis of Sex. To be directed by Marielle Heller, the project is the latest in a rash of High Court–related dramatizations.
HBO announced this month that Wendell Pierce will play Justice Clarence Thomas in Confirmation, about Thomas' explosive 1991 Supreme Court confirmation battle. The Originalist, a new play currently running in Washington, depicts an imagined relationship between Justice Antonin Scalia and a liberal law clerk. And this summer will see the premiere of Scalia/Ginsburg, a comic opera inspired by the complicated relationship between the court's most famous "frenemies."
On this week's episode, Dahlia and her guests consider what we should make of this sudden efflorescence of Supreme Court drama. Her first guest is John Collins, founder and director of the Elevator Repair Service. Last year, Collins and the theater company won rave reviews for Arguendo, the script of which reproduced the entirety of an actual oral argument verbatim.
Dahlia is also joined by Thane Rosenbaum, an essayist, novelist, and law professor who directs the Forum on Law, Culture & Society at New York University School of Law.
Please let us know what you think of Amicus, our legal affairs podcast. Our email is amicus@slate.com.
Podcast production by Tony Field.