Play the Slate News Quiz
With Jeopardy! superchampion Ken Jennings.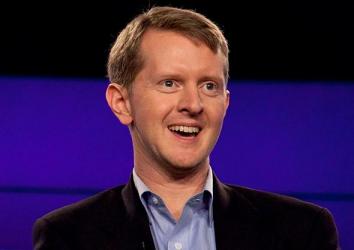 Welcome back to Slate's weekly news quiz. I'm your host, 74-time Jeopardy! winner Ken Jennings.
Every Friday I'll be testing your knowledge with 12 challenging questions on the week's news events, big and small, including happenings in science, sports, politics, and culture both high and low. The questions are multiple-choice, and time is of the essence: You have 30 seconds to answer, and as the seconds tick away, the question's point value drops from 50 all the way down to zero, so you'll want to click on your answer as fast as you possibly can. There's no penalty for an incorrect answer, so feel free to take a guess if your puny human brain fails you.
At the end of the quiz, you'll be able to compare your score with that of the average contestant, as well as with the score of a Slate-ster whom I've talked into taking the quiz on the record. This week's contestant is Lowen Liu, Slate's managing author.
Think you can ace my quiz and beat Lowen Liu? Good luck!

The Slate Quiz with quizmaster Ken Jennings


This is not a Halloween trick: The English department at an Ivy League school has announced a new course called "Wasting Time on the Internet." UPenn is now offering three credit hours to students who wish to become experts in "chat rooms, bot, social media, and listservs." Slate News Quiz regulars are encouraged to apply.
Question 1
of 12
Closely watched ballot initiatives in Oregon, Alaska, and the District of Columbia next week will let voters decide on what issue?
Question 2
of 12
What was the name of the candidate for prime minister in Ukraine who wasn't even allowed to vote in Sunday's election due to his refusal to remove his mask?
Darth Alekseyevich Vader left the polling station without voting, but insisted, "The fact that I did not vote doesn't mean that my empire will not win."
Question 3
of 12
The Tulalip Indian tribe released a statement this week to denounce what as a "horrific" act?
The shooter at Marysville-Pilchuck High School and some of the victims were members of prominent tribal families from the nearby Tulalip reservation.
Question 4
of 12
The rocket engines that exploded shortly after launch on Tuesday night in Virginia were originally built for what purpose?
Orbital Science, the company behind the launch, uses refurbished Soviet N1 rockets built more than 40 years ago to get its payloads off the ground.
Question 5
of 12
President Dilma Rousseff of the Workers' Party was re-elected this week, leading to falling markets and speculation about a financial crisis in what large world economy?
Question 6
of 12
John Spinello, the ironic subject of a new crowdfunding campaign for an oral surgery he cannot afford, is best known as the inventor of what?
Spinello, who sold the game to Milton Bradley in 1964 for just $500, needs $25,000 for the surgery.
Question 7
of 12
Looting has been reported in the near-empty town of Pahoa, Hawaii, hundreds of whose residents have left fleeing what?
The lava flow, from the Big Island's Kilauea volcano, has been inching toward Pahoa for weeks at a speed of 15-30 feet per hour.
Question 8
of 12
According to new intelligence reports, where was North Korean leader Kim Jong-un during his six-week disappearance?
According to South Korea's spy agency, European doctors had been called in to operate on muscle or nerve damage in Kim's right ankle.
Question 9
of 12
New York Gov. Andrew Cuomo joked that New Yorkers should spend what time period reading his new memoir, All Things Possible?
Cuomo and New Jersey Gov. Chris Christie have both insisted on tougher anti-Ebola policies than are recommended by the CDC.
Question 10
of 12
The vice president of Zambia acceded to the presidency on Wednesday after the death of Michael Sata, giving Africa its first head of state in two decades who is what?
Economist Guy Scott was born in Zambia in 1944 to Scottish parents.
Question 11
of 12
A 19-inch by 23-inch square of metal recovered from the Pacific atoll of Nikumaroro has been tentatively identified as part of what?
The aluminum square, the authenticity of which has been called "plausible" by an expert, would have served as a patch that replaced a navigational window shortly before her plane's ill-fated final flight.
Question 12
of 12
What American performer is so popular in China that he was forced to walk back some Twitter photos he took last week with Hong Kong protesters?

October 31, 2014


Anonymous User
Log in to track your scores!
vs.

Lowen Liu
Managing Editor
The Parliament Hill attack in Ottawa
The Mexican student kidnapping
Online death threats of a feminist blogger
The Marysville school shooting
Intercontinental missiles
Private spacecraft testing
In secret negotiations in Beijing
Recovering from ankle cyst surgery
Under house arrest with his wife
Binge-watching Friday Night Lights
Long lines at polling stations
A new handgun waiting period
The slow, ongoing Hurricane Sandy recovery
Malaysia Airlines Flight 370

Average
0 points

You
0 points


Lowen Liu
Managing Editor
0 points
Answer quickly to earn more points!
Quiz Template by Chris Kirk and Andrew Morgan
Correction, Oct. 31, 2014: The answer text for one question was originally misplaced and related to a later question. It has been moved to the appropriate question.