Play the Slate News Quiz—Special Year-in-Review Edition!
With Jeopardy! superchampion Ken Jennings.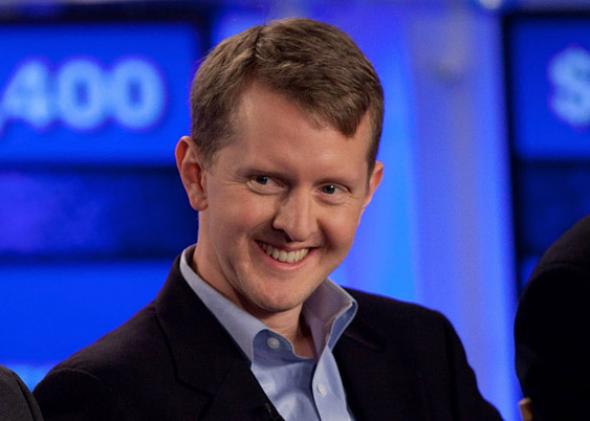 Welcome back to Slate's weekly news quiz. I'm your host, 74-time Jeopardy! winner Ken Jennings.
Every Friday I'll be testing your knowledge with 12 challenging questions on the week's news events, big and small, including happenings in science, sports, politics, and culture both high and low. The questions are multiple-choice, and time is of the essence: You have 30 seconds to answer, and as the seconds tick away, the question's point value drops from 50 all the way down to zero, so you'll want to click on your answer as fast as you possibly can. There's no penalty for an incorrect answer, so feel free to take a guess if your puny human brain fails you.
At the end of the quiz, you'll be able to compare your score with that of the average contestant, as well as to the score of a Slate-ster whom I've talked into taking the quiz on the record. This week's quiz is a special year-in-review edition, and the contestant is David Plotz, the editor of Slate.
Think you can ace my quiz and beat Plotz? Good luck!
The Slate Quiz with quizmaster Ken Jennings
"Carlos Danger, Paula Deen, Batkid keeps the city clean..." Or so might Billy Joel sing, if, as I sometimes suspect, he is still writing a new verse every year for his hit song "We Didn't Start the Fire." How much of 2013 do you remember? It's time to look back with our annual Slate News Quiz on the year that was.
Question 1
of 12
Who made headlines in 2013 while wearing an iconic pair of bright pink Mizuno "Wave Rider" sneakers?
Davis became a national political figure overnight by filibustering a Texas abortion bill for 11 hours.
Question 2
of 12
According to the North Korean media, which of these was not one of the offenses that led to Kim Jong-un's execution of his own uncle, Jang Song-thaek?
Jang faced a firing squad in December. The North Korean news agency called him "worse than a dog" and "human scum" in its 2,700-word denunciation.
Question 3
of 12
The number of people displaced by Typhoon Haiyan's destruction in the Philippines is roughly equal to the population of what U.S. city?
The United Nations says 14.1 million people were affected by the typhoon, and 4.1 million—roughly the population of LA—have been displaced.
Question 4
of 12
Which of the following actions is apparently grounds to be removed from office as mayor of Toronto?
Even after all of the above, Toronto Mayor Rob Ford enjoyed an approval rating above 40 percent.
Question 5
of 12
Fill in the blanks: Sales of the book ______ rose 6,021 percent on Amazon earlier this year thanks to the headlines made by ______.
Question 6
of 12
How many people successfully signed up for Obamacare on the first day that healthcare.gov went live?
Question 7
of 12
In October, the Albuquerque Journal ran an obituary for whom, despite the fact that the dear departed never actually existed?
"In lieu of flowers, donations can be made to a drug abuse prevention charity," ended the obit, which was paid for by a group of Breaking Bad fans.
Question 8
of 12
"We're not going to be disrespected," said Rep. Marlin Stutzman (R-Ind.). "We have to get something out of this. And I don't know what that even is." What was Stutzman referring to?
Question 9
of 12
The Czech ambassador to the United States had to issue a statement this year reminding Internet rowdies that his country bore no responsibility for what?
The Tsarnaev brothers claim Chechen descent, which confused some Americans. "The Czech Republic and Chechnya are two very different entities," noted the embassy.
Question 10
of 12
On average, what happened every two weeks in America in 2013?
There have been 25 school shootings since Newtown, resulting in at least 24 injuries and 17 deaths.
Question 11
of 12
Time's Person of the Year, Pope Francis, has broken with tradition by driving around the Vatican in what?
The Renault has 190,000 miles on it. Pope Francis has shocked his staff by doing his own driving.
Question 12
of 12
Despite sharing no formal diplomatic relations, what longtime enemies reached a historic agreement in Geneva in November?
December 27, 2013
Anonymous User
Log in to track your scores!
vs.

David Plotz
Editor of Slate
Adopting a "counter-revolutionary" hairstyle
Gambling away $6 million at casinos
Clapping half-heartedly at rallies
Making death threats on video
The Martian Chronicles, the Curiosity rover
Green Eggs and Ham, Marco Rubio
Black Like Me, Julianne Hough
U.S. action against Syria
The Superstorm Sandy aid package
The Boston Marathon bombings
A U.S. state legalized gay marriage
Alec Baldwin apologized for something
Jimmy Kimmel and Kanye West
Average
0 points
You
0 points

David Plotz
Editor of Slate
0 points
Answer quickly to earn more points!
Quiz Template by Chris Kirk and Andrew Morgan