Play the Slate News Quiz
With Jeopardy! superchampion Ken Jennings.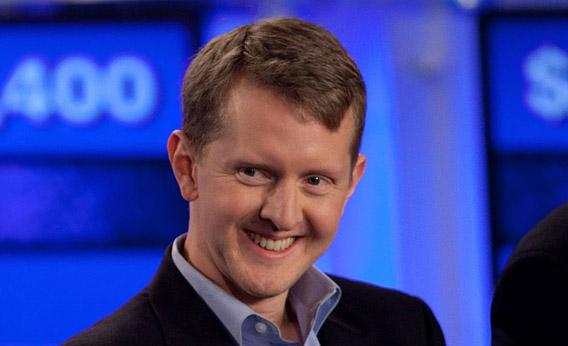 Welcome back to Slate's weekly news quiz. I'm your host, 74-time Jeopardy! winner Ken Jennings.
Every Friday I'll be testing your knowledge with 12 challenging questions on the week's news events, big and small, including happenings in science, sports, politics, and culture both high and low. The questions are multiple-choice, and time is of the essence: You have 30 seconds to answer, and as the seconds tick away, the question's point value drops from 50 all the way down to zero, so you'll want to click on your answer as fast as you possibly can. There's no penalty for an incorrect answer, so feel free to take a guess if your puny human brain fails you.
At the end of the quiz, you'll be able to compare your score with that of the average contestant, as well as to the score of a Slate-ster whom I've talked into taking the quiz on the record. This week's contestant is Slate's new TV critic, Willa Paskin.
Think you can ace my quiz and beat Paskin? Good luck!


It was reported this week that a French snail farmer has invented an industrial process for extracting 15 tons of slime from his prize gastropods—and even that won't be enough to keep up with the demand from Japan, where beauty salons are charging patrons $250 to have snails crawl all over their faces. By contrast, taking the Slate News Quiz is much less expensive and 100 percent mucus-free.
Question 1
of 12
Which of these countries has not offered asylum to NSA leaker Edward Snowden?
As Russia continues to weigh Snowden's request, his lawyer says he remains in a Moscow airport wearing "the same shirt and jeans that he wore when he arrived."
Question 2
of 12
Robert McDonnell publicly apologized for the first time this week, returning a controversial $120,000 loan from a nutritional supplement company. What is McDonnell's elected office?
The beleaguered McDonnell was once considered a possible presidential contender for Republicans in 2016.
Question 3
of 12
A new study from the London School of Economics has reported that 23 and 69 are the two what?
The findings suggest that 23-year-olds are most hopeful about the future, while 69-year-olds have bounced back from their various midlife crises.
Question 4
of 12
Departing for Brazil from Rome's Ciampino Airport on Monday, Pope Francis was lauded for his "common touch" in doing what?
The pope doesn't have his own plane, but he does charter a special Alitalia jet for international travel.
Question 5
of 12
What hard-to-believe fate reportedly befell Norwegian interior designer Marte Deborah Dalelv in Dubai after she claimed that a colleague had raped her?
This week, Dalelv was pardoned by the sheikh of Dubai and released after an international outcry over her 16-month jail sentence.
Question 6
of 12
The real-life title object of what film is currently on sale on eBay for $3 million?
The seller, a California collector, says there are only four copies of the historic document in existence.
Question 7
of 12
On Monday, militants armed with car bombs and rocket-powered grenades freed 500 prison inmates, some from death row, where?
An al-Qaida-linked group has claimed responsibility for the attack on the Baghdad prison, which followed 10 days of violence there.
Question 8
of 12
Of these four names in the news this week, which is the only one that's previously belonged to a British monarch?
There have been six kings of Great Britain named George, most recently George VI, the father of Queen Elizabeth.
Question 9
of 12
Researchers at England's University of Bristol have unveiled a new type of fuel cell that can power a cellphone using what?
As bacteria in the fuel cell break down the pee, they produce enough electrical charge for brief phone calls. "One product that we can be sure of an unending supply is our own urine," said one engineer.
Question 10
of 12
Which of these controversial figures was unexpectedly back in the news this week after rescuing a family of four from a rollover SUV accident?
Zimmerman happened to be driving by the accident, which took place less than a mile from the street where he shot Trayvon Martin.
Question 11
of 12
Researchers in Belgium were able to raise bookstore sales by up to 40 percent using what tactic?
The study, from the new Journal of Environmental Psychology, found that chocolate-fueled sales of romance novels and cookbooks were especially strong.
Question 12
of 12
There are now three direct-descendant heirs to the British throne for the first time since 1894, but what other European country swore in a new king on Sunday while the previous king was still living?
Albert II officially abdicated his throne in favor of his son, who is now King Philippe I of Belgium.
You got 8 out of 12 answers correct in 20 minutes 30 seconds.
Answer quickly to earn more points!
July 26, 2013
Anonymous User
Log in to track your scores!
vs.
Willa Paskin
Slate's TV critic
Likeliest lottery numbers
Agreeing to swap to a middle seat
Removing his shoes and travel-sized liquids at security
She was sentenced to jail for extramarital sex
Her alleged attacker was pardoned
Playing loud techno music
Bad-mouthing public libraries in TV ads
Piping in the smell of chocolate
Average
0 points
You
0 points
Willa Paskin
Slate's TV critic
0 points
Recent Quizzes
Loading your quiz history...
←
→
Quiz Template by Chris Kirk and Andrew Morgan