Announcing the Slate Audio Book Club for January: Battle Hymn of the Tiger Mother
Plus, vote on the book we'll read for February.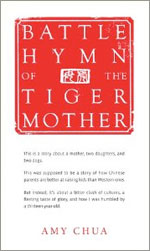 Calling book-clubbers everywhere! The Slate Audio Book Club for January will be about Amy Chua's provocative book on Chinese-American parenting: Battle Hymn of the Tiger Mother. On Thursday, Jan. 27, we'll post our podcast discussion of the book, with Ann Hulbert, Nina Rastogi, and Hanna Rosin—this heads up will give you plenty of time to read it beforehand. For a taste, here's an excerpt of the book. And a preview from Nina:
Amy Chua thinks Western parents are lazy and have no backbones, and that's why their kids keep getting trumped by their high-achieving Asian-American classmates. In Battle Hymn of the Tiger Mother, Chua—a professor at Yale Law School and the daughter of Chinese immigrants from the Philippines—describes how she raised two gifted daughters in the "Chinese" way. None of this nonsense about children finding their own passions: Under their mother's watchful eye, Chua's girls spend hours and hours a day practicing their assigned instruments (piano and violin, natch) and nailing their homework. A-minuses are failures; self-esteem a distraction. At one point, Chua recalls how she threatened to burn one daughter's stuffed animals if she didn't play a piece perfectly.

Chua realizes that her parenting style sounds extreme, but she argues that it serves children better—and shows them greater love and respect—than the mushier "Western" way. Rigor and intensity instills a different kind of confidence in children: the knowledge that excellence is attainable, if you're willing to work hard enough for it. And Chua's children are excellent, playing Carnegie Hall and Europe and being anointed "prodigies" at every turn. But when her strong-willed second daughter, Lulu, chafes against her mother's zealousness, Chua retrenches a bit. Yet does she really change her ways—and should she?
Now on to February: For the first time ever, we're letting Audio Book Club listeners choose the title we'll discuss. We've picked five nominees (see below) and you can vote early, although not often (only once in fact), for your favorite. Voting will remain open unril Friday, Jan. 21 at 11:59 p.m. ET:
We're also looking for suggested nominees for the March book club selection. Post your ideas in the comments or on our Facebook page. And if you missed our last Book Club, on Lydia Davis' new translation of Madame Bovary, you can find it here. Thanks!