Why Are Our Cell Phones So Terrible?
Watch video of the Slate/New America Foundation discussion of American mobile technology.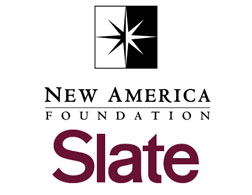 Slate and the New America Foundation joined forces Friday to discuss the sorry state of American mobile technology. Slate's Farhad Manjoo and Tim Wu and New America's Sascha Meinrath and Nicholas Thompson participated in the discussion.
Few things in modern life irritate us as much as our cell phones. Calls drop, but contracts stick around forever. Monthly fees get ever higher, even as reception seems to get poorer. So what exactly can we do about this? How can the market be changed so that there's more competition and better service? What can the federal government do about bandwidth? What should be in a consumers' Cell Phone Bill of Rights? And, well, how do we just get these darn things to work better?
If you missed the event, you can still catch the video, below.
This event marks the second collaboration between Slate and the New America Foundation as part of the "Future Tense" series. Our first live discussion, "Manhunt: From Saddam to Bin Laden," used Chris Wilson's Slate series, "Searching for Saddam," as a jumping-off point to discuss how the lessons from the surprisingly high-tech hunt for Saddam Hussein in 2003 continue to change U.S. war-fighting.