Take These Students, Please
Schools across the country are pursuing an extreme form of online learning: It's all their struggling students do.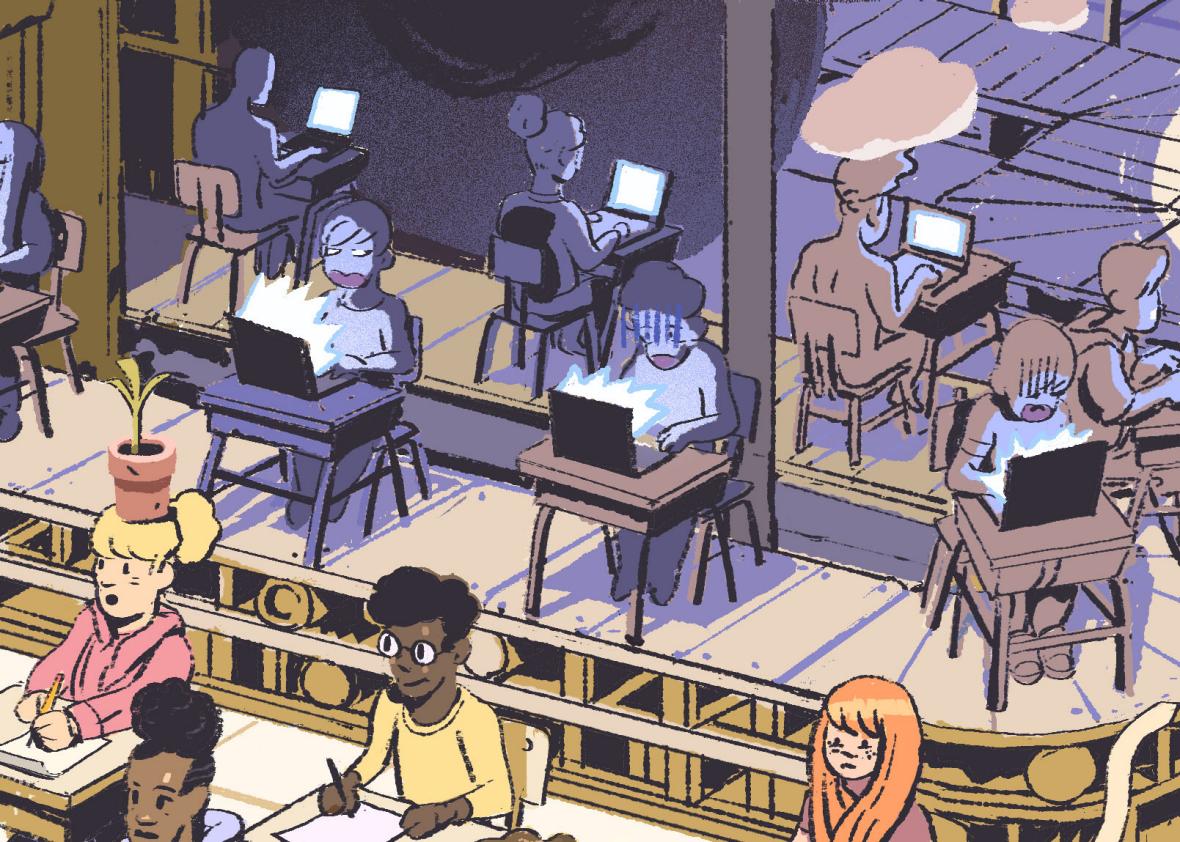 This article is part of the Big Shortcut, an eight-part series exploring the exponential rise in online learning for high school students who have failed traditional classes.
CHICAGO—On a Tuesday afternoon in mid-November, Keith Daniel sat in the main office of Sullivan High School on Chicago's Far North Side scrutinizing a flier for the cap, gown, and school ring he hoped to buy for his graduation this coming June. "This is my second home," he said. Yet Daniel, who is 19, has not attended a single class at Sullivan for almost two years. In the spring of 2015, a guidance counselor—noting how far behind Daniel had fallen academically—advised him to transfer to a school where most of the classes would be self-paced and online and where he could make up credits more quickly. The choice wasn't subtle: Go or fail. So Daniel transferred to Magic Johnson Bridgescape, a for-profit school named after the basketball star who funded it in a joint venture with the company Edison Learning. "Ten more credits and I'm out," Daniel said.
Daniel has had a lonely high school experience for the past two years. He spends four hours a day at Bridgescape, usually four days a week, and he seldom interacts with peers and teachers. When he struggles with an online test, his "best friend" is Google—something he is not discouraged to use—while teachers are a last resort. His main companions are his smartphone (for listening to music) and his Galaxy smartwatch (which helps him kill the time and stay in touch with his friends). "I can spend an entire day at school and not talk with anyone," Daniel told me. Sometimes, he returns to visit his old teachers and classmates solely because he misses the warmth and bustle of a traditional high school.
You might call Daniel's experience online credit recovery on steroids: what happens when a student falls so far behind that he must take all of his remaining high school courses online, not just a few. Programs like Bridgescape's have been popping up across the country, in Illinois, California, Florida, Louisiana, Georgia, and elsewhere. They vary considerably in quality (some have a significant interpersonal component, while others expect students to work almost exclusively on their own), and they vary considerably in structure (some are for-profit and run by companies that operate in several states, others are nonprofit).
Virtual schools have existed for years, but alternative programs like Bridgescape, where students at risk of dropping out come to brick-and-mortar schools or centers to complete a mostly online curriculum, represent a newer phenomenon.
Nationally, the major for-profit providers include Ombudsman, which runs more than 100 programs in 14 states, including three sites in Chicago; Catapult Academy (a division of the New Jersey–based Catapult Learning), which runs more than 20 alternative high school programs in Georgia and Florida; and AdvancePath, which runs 10 programs (located inside traditional schools) in five states. In Chicago, the main providers are Magic Johnson Bridgescape and Ombudsman, both for-profit, and Pathways, a nonprofit. Last school year more than 3,000 young Chicagoans were enrolled in one of these new programs.
Chicago students like Amber Linn Ellis, 19, who enrolled at an Ombudsman program in 2015, say they might have dropped out of school altogether if not for the new choices. "It is a second chance—a second chance right now," she said. But even Ellis concedes that the online programs should only serve as a last resort for students who have no other options.
The risk for these students is that rather than experiencing school as a social institution, they "end up living in their own heads," said Chicago-based activist and educator Michael Klonsky, who teaches at DePaul University. "The sense of community has been lost."
The new programs have transformed the nature of high school education for thousands of the nation's most vulnerable teenagers, turning it into a far more individual enterprise, one where socialization isn't even a secondary goal. More high schoolers are graduating, but the experience in Chicago shows that the country is at risk of creating two separate high school tracks: the traditional one, with all of its variety, strengths, and pitfalls; and a new, mostly virtual track for those students too many high schools have given up on—the very students who most need an engaging educational experience to prepare them for jobs and adult life.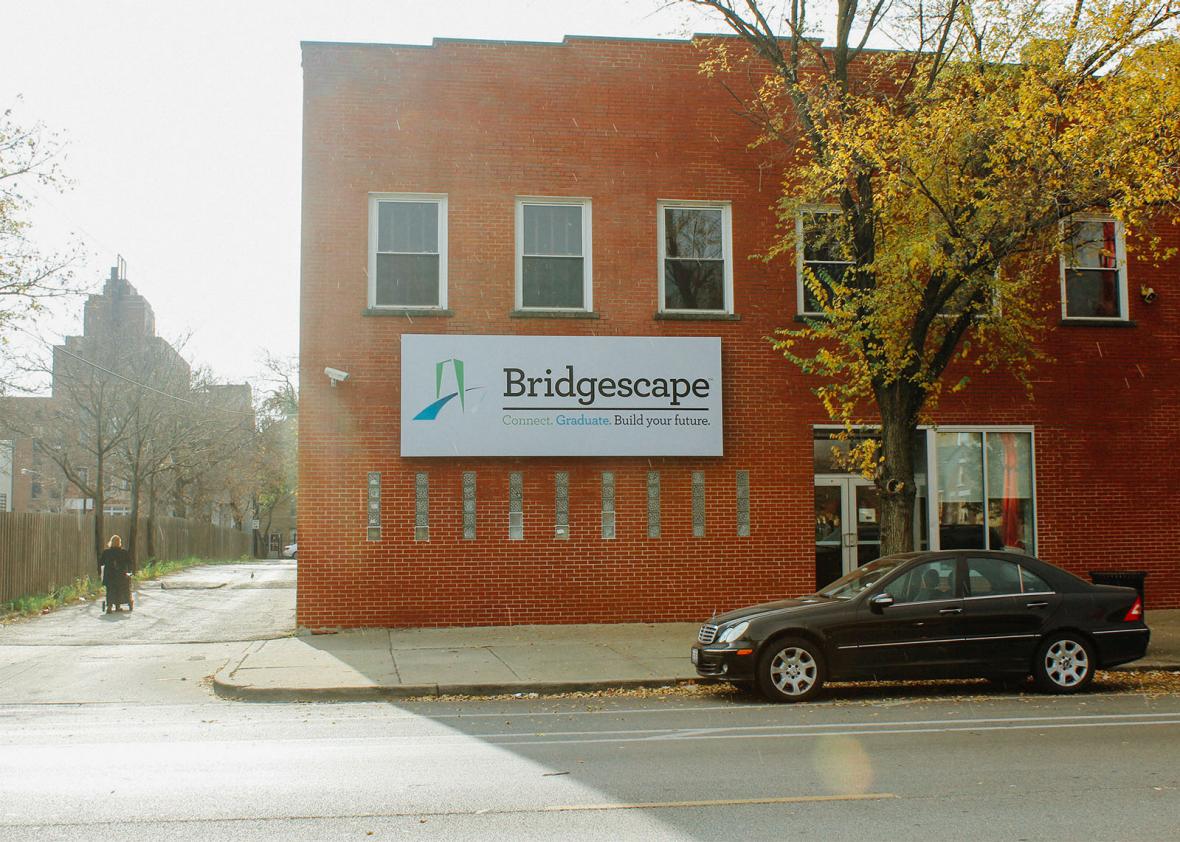 There's one group that is certainly benefiting from schools like Bridgescape: administrators tasked with raising Chicago's woeful graduation rate.
Under the leadership of Mayor Rahm Emanuel and former Chicago Public Schools CEO Barbara Byrd-Bennett, who was recently sentenced to four and a half years in prison for a bribery scandal, the district started contracting in 2013 with private companies like Magic Johnson Bridgescape to address a shockingly high drop-out rate. One of the main arguments was a report released by the school district the year before, when the city counted 56,000 youth who were out of school or off track for graduation.
During Emanuel's administration, Magic Johnson has become a major player in Chicago's education world: Bridgescape operates five programs across the city, serving more than 850 students, and as the Chicago Tribune reported, in March 2015 another of Johnson's companies, SodexoMAGIC, received an $80 million contract to take over janitorial services for several Chicago Public School buildings. Following the contract, Johnson donated $250,000 to Emanuel's campaign for re-election.
Until four years ago, Chicago had about 30 alternative schools, the majority of them locally operated under the umbrella of the nonprofit Youth Connection Charter School. They have been using online credit recovery courses for years, although according to YCCS administrators, "tutoring and peer-to-peer interaction remain main values." Now there are more than 50 alternative schools in the city, with at least 15 of the new programs run by private companies that offer an overwhelmingly online curriculum inside centers that look more like co-working spaces than classrooms.
Nationwide, the marriage between online and alternative education has created a cheap and convenient way for districts to push out low-performing students.
In Chicago, students who attend the new alternative schools earn diplomas bearing the names of the schools they left or their neighborhood schools, even if they have never set foot in them. This is possible because the district labels these schools as "programs" rather than actual schools, so they can't issue diplomas. School district officials did not respond to multiple requests for interviews about how the system works, including whether students can be forcibly transferred to the online programs. This school year, the district budgeted about $36 million for its alternative programs. But a recent audit has shown that a significant chunk of this money may be going to waste: One survey found that only 52 percent of students attend the alternative programs on a regular basis, meaning the district could save between $12 million and $15 million if it based payment on attendance rather than enrollment.
Not surprisingly, last September, Emanuel announced that in just five years the high school graduation rate had jumped from roughly 50 percent to 73.5 percent.
Supporters of the trend argue that the new programs are helping scores of students earn crucial high school diplomas, something they will need to move into post-secondary education or the workforce. "Getting a diploma is a golden opportunity for these kids," said Sullivan principal Chad Adams, who previously taught in a juvenile facility.
But critics say the proliferation of these schools demeans the value of a diploma. "The district is giving high school diplomas for programs that are nowhere near comparable to regular high schools," said Troy LaRaviere, president of the Chicago Principals & Administrators Association and a fierce critic of Emanuel's administration. "In some cases, principals now have less incentive to keep students in their school and try to get them caught up with their credits, and more incentive to say to them: 'Look, you can go to this online school and get your diploma.' "
What is life like in a school without classes, books, or teachers' withering looks?
Daniel's Bridgescape school offers its students two shifts: 7:30 to 11:30 a.m. or noon to 4 p.m. Daniel prefers the morning so that he has the rest of the day to himself. At his new school, he spends most of his time sitting quietly in the computer lab with his headphones on, working online, although every other day he is pulled away for a 30-minute check-in with a teacher. When he isn't on site, he rarely does schoolwork.
Daniel, who has a big smile framed by two fake diamond earrings, mostly demurs when asked what he does in his free time, apart from noting that he likes reading horror books and cooking. At night, he sometimes works as a busboy in a downtown restaurant. He has not made friends in the new school, but he still gets together with students from Sullivan.
The Bridgescape site looks like a storefront business. It is located on the ground floor of a brick building sandwiched between a parking lot and a taqueria, in a predominantly Hispanic neighborhood on Chicago's West Side. From the outside, visitors and students can glimpse a security checkpoint at the front door. Inside, there is a single classroom with desks and computers. Natural light comes from a row of tiny windows. In the back, there are a few small rooms for group activities and administration offices. Most of the teachers appear to be in their 20s. On the day I visited with Daniel, officials at Bridgescape declined to be interviewed or provide any information about their program.
Daniel stays out of trouble. But Klonsky, who has served on the academic advisory council for the National Campaign Against Youth Violence, worries that the proliferation of online programs may do little to curb youth violence if students wind up alienated and build their social lives on the streets rather than in school.
"Students with headphones on, sitting in front of a screen all day, need to find their social life in other ways," he says. "Sometimes they find it in anti-social environments like street gangs, and they engage in anti-social activities like crime," Klonsky says, adding that while he supports smaller high school settings, the loneliness of computer-based instruction can foster isolation and rage. (Gun violence in Chicago is way up, although experts and law enforcement point out that the reasons are myriad and complex.)
Ray Salazar, who teaches at a high school on Chicago's Southwest Side, said he's concerned that the students steered to online alternative schools are those who most need more in-person guidance and instruction, not less. He knows two students who were recently transferred from his high school to alternative schools. They struggled with a lack of direction—including a sense of where to go next—after they earned their diplomas.
"We need to be careful in sitting struggling students in front of a computer for a long time," he said. "A consistent human element is still necessary to help teach them to think critically and to expand their ideas. My worry is that success is becoming more about completion—getting a diploma—than about growth."
For scores of students, the flexibility and independence of the mostly online curriculum is invaluable. Some of them need to work jobs part of the day or are already parents with unpredictable schedules. Others felt so bullied and alienated in traditional school environments that they view these socially siloed schools as a sort of oasis. But for the new programs to work well, students need to be incredibly self-motivated and mature. The shift puts control over education largely in their hands—a risk for teenagers who've struggled so hard and so long in more regular settings. In a sense, the new programs lower the accountability for these students since they don't have to show up as often, have far less interaction with peers and adults alike, and demonstrate their proficiency on online tests that are highly gameable.
Amber Linn Ellis left her previous school, Benito Juarez High School, after developing an eating disorder that made her socially anxious. In her first eight days at Ombudsman, she earned an entire course credit. She likes the program but still struggles to stay motivated.
One November morning, Ellis started getting ready for school at 11 a.m. She typically attends the afternoon shift, which runs from noon to 4 p.m., and she knew that she was going to be late. Ellis sipped a lemon soda and played with her smartphone while her mother fried sausages in the kitchen, her grandfather watched television in his bedroom, and her uncle drifted in and out the living room. Eight people, plus a cat and two goldfish, share the one-bathroom apartment on the city's Lower West Side (since Christmas, a dog has joined the family). After straightening her purple hair, Ellis tried unsuccessfully to log onto one of her online courses from a tablet she shares with her mother. "I'm computer-dumb, and I'm doing my studies online," she joked.
Like Daniel, Ellis does not pack books and notebooks. Her purse and a folder with record sheets of her work are all that she needs. But unlike him, she is required to wear a uniform: khaki pants and a white shirt. When she arrived at school more than 30 minutes late, a dozen students were working quietly on their computers on the first floor of the building, a former Catholic church. Ellis' mother, Shonna Linkowski Hernandez, says it's "like a library setting, except that there are no books." Hernandez picks Ellis up every afternoon; she worries that the nearby train station is too dangerous, noting that there have been recent shootings there.
During school hours, Ellis can't use her smartphone, and interaction between peers is discouraged. On one occasion, a teacher reprimanded her and sent her to the principal for talking with a schoolmate who was struggling with an online test.
Although she works mostly alone and online, Ellis takes one English class in a group setting—classes that are known at Ombudsman as "teacher-led instruction," or a TLI period. Like at Bridgescape, teachers at Ombudsman are young and, although they must be certified, regularly assist students in subjects outside their fields of expertise.
Maureen O'Donnell, a 25-year-old first-time teacher at Ombudsman who serves as Ellis' adviser, majored in history but helps students with subjects ranging from algebra to French. "I don't speak French, and we don't have a French teacher," she says. "This is probably the most challenging part for me." O'Donnell adds that she was "shocked" to see how many online alternative programs exist in Chicago, although she supports the model as an option for students who can't thrive in other settings.
Ellis and Daniel turned to online programs because they felt they wouldn't get diplomas otherwise. But Ombudsman administrators and students report that a growing number of kids are bypassing traditional schools altogether, enrolling in their schools as freshmen. "Some students who have never been to high school before come straight from eighth grade to this school because they have a sibling enrolled here," says Ombudsman vice principal Katherine Holzer, a former science teacher from Chicago's suburbs. She says the school discourages students from spending more than two years at Ombudsman. But due to the lack of clear and transparent regulation of these programs by the district, students increasingly ignore that advice.
That's a bad idea, according to Ellis. As she describes it, the new model leaves everything "up to you" and does not work for everyone: "There are kids that just hear about Ombudsman, hear how it's easy to get through it, and they just want to get their credits." In her view, "Ombudsman is not for them."
The great majority of the students at the schools Daniel and Ellis attend are low-income and minorities. And their satisfaction with an online program that can be superficial and isolating shows just how little they've come to expect from the public schools.
Yet both Daniel and Ellis do want something better—if not for themselves, at least for future generations.
Despite Ellis' initial appreciation for Ombudsman, she ended up dropping out over the winter—with just two credits left. She didn't receive enough help from her teacher, who always seemed to be busy or absent, she said: "I think if I would have been in another school closer to my location with a teacher who is actually about hands-on learning, then I would have graduated." For the time being, she works for a company that provides maintenance, cleaning, and janitorial services. Ellis' dream is to open a child care center or work for the police in the child protection department.
Daniel remains enrolled at Bridgescape and still plans to graduate in June. He wants to become a chef and open his own restaurant, maybe in Mississippi, where his family comes from. His specialty is baked goods, but he says he has also created a personal version of Alfredo sauce. Both teenagers say that online schools can serve an important purpose for disengaged youth. But when asked what kind of education they would want for their own children, they had no doubts: the traditional high schools they left.