Barocrates
The latest addition to Slate's dictionary of Obamaisms.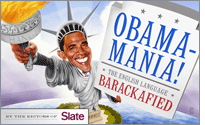 Barocrates (buh-ROK-ruh-teez) n. An obscure Greek philosopher who pioneered a method of teaching in which sensitive topics are first posed as questions and then evaded.
Example: While Obama is well-trained in the Barocratic method, many less-capable politicians have had mixed success with the technique.
In conjunction with the publication of the book, we will be publishing a new Obamaism every morning and adding it to the Obamamania widget below, which you can add to your Facebook or MySpace profile or Web site.