Longform's Best Crime Stories of 2013
Serial killers, the Craigslist murders, and Amy Bishop.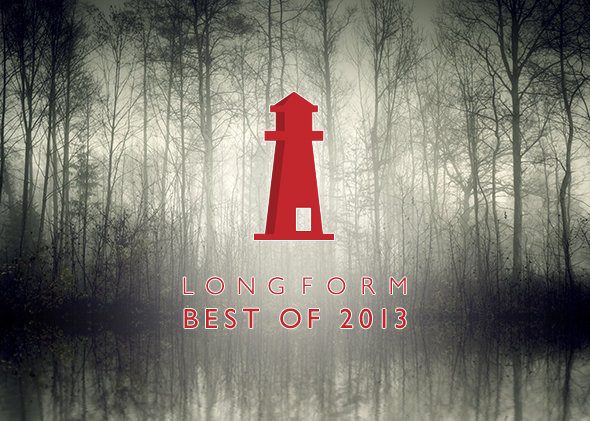 This week on Slate, we'll be sharing our favorite articles of the year. For our full list—including the top 10 of the year, plus picks in sports, politics, tech, and more—check out Longform's Best of 2013.
From 1976 to 1986, one of the most violent serial criminals in American history terrorized communities throughout California. He was little-known, never caught, and might still be out there. The author, along with several others, can't stop working on the case.

On a sleepless night last July—one of dozens I've powered through during the months I've spent tracking him down—I Googled a description of a pair of cuff links he stole in the midst of a home invasion in Stockton in September 1977. At that time the Golden State Killer, as I've recently come to call him, hadn't yet graduated to murder. He was a serial rapist who was attacking women in their bedrooms from Sacramento to San Ramon, targeting those who lived in quiet upper-middle-class suburban neighborhoods. He was young—anywhere from 18 to 30—Caucasian, and athletic, capable of eluding capture by jumping roofs and vaulting tall fences. He frequently wore a ski mask. He had either blue or hazel eyes and, some victims reported, a high-pitched voice. He would rant to his victims about needing money, but he frequently ignored cash, even when it was right in front of him.
William Sparkman Jr., a census worker, was found hanging from a tree in rural Kentucky. He was naked, hands bound, with the letters "FED" written across his chest. Inside the investigation into how—and why—he died.
It was a glorious day—mid-70s and clear, with a light wind. Weaver walked with his eyes trained on the Toyota. As the vehicle curled slightly to the right, just out of sight, he heard Connie scream. Weaver rushed forward and at first saw only a red pickup truck at the near edge of a clearing. But as he walked around the empty vehicle, a figure at a far corner of the clearing came into view, about 40 yards away. It was motionless: a naked man hanging from a tree.
After a botched bank robbery in 1990, Sture Bergwall, aka Thomas Quick, confessed to a string of brutal crimes. He admitted to stabbings, stranglings, incest and cannibalism. He was convicted of eight murders in all, and after the final trial he went silent for nearly a decade. But a few years ago, Bergwall came forward again—there was one more secret he had to tell.
Sture Bergwall is better known to most people in Sweden as Thomas Quick, the name he took not long after he arrived at this institution in 1991. Quick is his mother's family name. Thomas, he liked to explain, was the name of his first victim, a 14-year-old boy whose body was found in a bicycle shed, belt undone, trouser button ripped off, and face bloody. Bergwall was never prosecuted for that murder, because he was 14 years old when it happened, and by the time he confessed to it, the statute of limitations had expired. But he was later convicted in six separate trials for eight other murders, and the full number of murders he has claimed responsibility for is around thirty. That is how he became Sweden's most famous serial killer. "Sweden's answer," as he himself would later put it, "to Hannibal Lecter."
How a killer and his teenage accomplice used listings for "the job of a lifetime" to lure their victims, all down-and-out single men, to the backwoods of Ohio.
Scott Davis had answered the job ad on Craigslist on October 9, 2011, and now, four weeks later to the day, he was watching the future it had promised glide past the car window: acre after acre of Ohio farmland dotted with cattle and horses, each patch framed by rolling hills and anchored by a house and a barn—sometimes old and worn, but never decrepit. Nothing a little carpentry couldn't fix.
The haunted past of Amy Bishop, a University of Alabama neurobiologist who shot six colleagues during a staff meeting.
Amy Bishop, a neurobiologist at the University of Alabama in Huntsville, sat down at the conference table just moments before the faculty meeting began. It was three o'clock on February 12, 2010, and thirteen professors and staff members in the biology department had crowded into a windowless conference room on the third floor of the Shelby Center for Science and Technology. The department chair, a plant biologist named Gopi Podila, distributed a printed agenda. Bishop was sitting next to him, in a spot by the door. Inside her handbag was a gun.