The Longform Guide to Mayhem in Mexico
Corruption, murder, and the drug business south of the border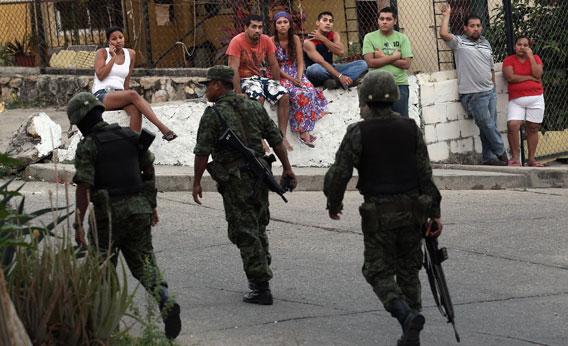 Every weekend, Longform shares a collection of great stories from its archive with Slate. For daily picks of new and classic nonfiction, check out Longform or follow @longform on Twitter. Have an iPad? Download Longform's app to read the latest picks, plus features from dozens of other magazines, including Slate.
Few stories have been covered as consistently over the last few years as the mind-boggling violence in Mexico. After a while, the glut of pieces just start to blend together into a big, insane, tragic mass. But Patrick Radden Keefe broke that pattern last week with his masterful breakdown of the drug cartel business model in the New York Times Magazine. I'll avoid further superlatives; really, just read the thing if you haven't already. And then dive into the rest of the stories below, all of which were published over the last few years as violence in Mexico skyrocketed, and all of which also found ways to stand out.
Patrick Radden Keefe • New York Times Magazine • June 2012
How a Mexican drug cartel makes its billions:
"But Chapo's greatest contribution to the evolving tradecraft of drug trafficking was one of those innovations that seem so logical in hindsight it's a wonder nobody thought of it before: a tunnel. In the late 1980s, Chapo hired an architect to design an underground passageway from Mexico to the United States. What appeared to be a water faucet outside the home of a cartel attorney in the border town of Agua Prieta was in fact a secret lever that, when twisted, activated a hydraulic system that opened a hidden trapdoor underneath a pool table inside the house. The passage ran more than 200 feet, directly beneath the fortifications along the border, and emerged inside a warehouse the cartel owned in Douglas, Ariz. Chapo pronounced it 'cool.'
"When this new route was complete, Chapo instructed Martínez to call the Colombians. 'Tell them to send all the drugs they can,' he said. As the deliveries multiplied, Sinaloa acquired a reputation for the miraculous speed with which it could push inventory across the border. 'Before the planes were arriving back in Colombia on the return, the cocaine was already in Los Angeles,' Martínez marveled."
Eric Nusbaum • Pitchers and Poets • March 2009
The story of a young man killed in Juarez:

"There was precious little media coverage of Jaime Irigoyen's death. In the United States, our press has not yet begun putting human faces on the bedlam below our Southern border. In Mexico, there are so many dead, so many exceptionally tragic stories, that it is hard for journalists to single them out. Why is Jaime Irigoyen's death more notable than that of any other innocent civilian caught in the crosshairs of anarchy?
"From what is available, in both English and Spanish, it becomes possible to piece together a story. Jaime Irigoyen was 19 years old, a law student at Universidad Autonoma de Ciudad Juarez and a pitcher for the school's baseball team, los Indios. Judging from available information, he was a good one too. As he got ready for bed on the night of January 12, 2009, that was his reality: baseball, school, girls probably.
"But those interests were soon to become historical facts; the kind that are recollected in obituaries and recalled years later by nostalgic relatives."
Vanessa Grigoriadis and Mary Cuddehe • Rolling Stone • September 2011
How a middle-class jock from a Texas border town became La Barbie, one of the most ruthless and feared cartel leaders in Mexico:
"Barbie believed in vengeance, and in taking care of his enemies. Over his 15 years in the drug trade, he had managed to alienate the leaders of almost every major cartel in Mexico: the Zetas, the Gulf cartel, even the Sinaloa and Beltrán-Leyva cartels he worked for. 'Barbie had enemies galore,' says George Grayson, a Mexico scholar at the College of William & Mary and the author of Mexico: Narco-Violence and a Failed State. 'He could have set the Guinness World Record for people who wanted to kill him.' Yet Barbie remained chillingly detached, unable to see the connection between his personal savagery and the way his own family and friends came to fear him. 'Even with all the bad things he's done, Barbie always thought the world looked on him kindly,' says a law-enforcement source familiar with Barbie. 'He's just one of those blithe-living guys who thinks his life is charmed.'"
Charles Bowden • Harper's • April 2009
The author travels to Mexico to meet a retired assassin and kidnapper, now himself a target of the faceless cartels that once employed him:
"I feel myself falling down into some kind of well, some dark place that hums beneath the workaday city, and in this place there is a harder reality and absolute facts. I have been living, I think, in a kind of fantasy world of laws and theories and logical events. Now I am in a country where people are murdered on a whim and a beautiful woman is found in the dirt with blood trickling from her mouth and then she is wrapped with explanations that have no actual connection to what happened.
"I have spent years getting to this moment. The killers, well, I have been around them before. Once I partied with two hundred armed killers in a Mexican hotel for five days. But they were not interested in talking about their murders. He is."
Drake Bennett and Michael Riley • Businessweek • April 2012
A profile of the Mexican newsweekly, a "lone voice" in reporting on the narcos:
"Against all this, Riodoce stands out—a small paper, in the hometown of Mexico's most powerful cartel, that insists on writing about the drug violence. There are other places, online and in print, where Mexican readers can go to find body counts or pictures of blood-spattered crime scenes, but Riodoce prides itself on its investigative work, on trying to ferret out the stories that neither the cartels nor the government want told. As news outlets all over the country have censored themselves in the face of lethal ultimatums, Riodoce's reputation has grown. Today it's read far beyond Culiacán, by cartel analysts, government officials, fellow journalists, and drug traffickers themselves. Last year one of the paper's columnists and co-founders, Javier Valdez, won the Committee to Protect Journalists' International Press Freedom Award, along with journalists from Pakistan, Belarus, and Bahrain.
" 'The work that they do is amazing, they make us all proud,' says Marco Santos, managing editor of Noroeste, one of Culiacán's two dailies. 'They're like a lighthouse.' "
William Finnegan • The New Yorker • October 2010
Cracking down on corruption in Tijuana:
"Leyzaola's satisfaction with the relative peace in downtown Tijuana today is palpable. 'The day I took office, there were five kidnappings,;' he told me. We were sitting in his eighth-floor office on a sunny morning in August. The lower floors of the building had a dreadful stench from a slaughterhouse next door, but the odor dissipated at this altitude. Leyzaola is forty-nine, trim and athletic, with a strong, slightly lupine face. The son and grandson of soldiers, he entered the Heróico Colegio Militar, Mexico's West Point, at sixteen. He went on, 'The city was totally degraded, totally controlled by organized crime. Convoys of Escalades and Suburbans full of armed men were rolling around these central streets, killing with complete impunity.' The narcos still do their dirty work, he said, but quietly now. 'They are no longer big groups in S.U.V.s using AK-47s but just a couple of guys in old cars with pistols.'Leyzaola himself was, unmistakably, the new stud duck in town.
"But his work is not finished. With the help of the Army, he has been conducting a large-scale depuración, or 'purification,' of the Tijuana police. He has arrested, often personally, more than a hundred and eighty officers suspected of corruption, and has forced the resignations of hundreds more. La depuración is the most important work he has done by far, he told me. He reckons he has smoked out six hundred bad cops, and has changed the climate for those who remain. 'It's unprecedented in this country,' he said. 'A police force, at any level, purifying itself like this. It's never been done before.' "
Alma Guillermoprieto • New York Review of Books • October 2011
The struggle to put the drug war into context:
"How to write about Mexico's drug war? There are only a limited number of ways that readers can be reminded of the desperate acts of human sacrifice that go on every day in this country, or of the by now calamitous statistics: the nearly 28,000 people who have been killed in drug-related battles or assassinations since President Felipe Calderón took power almost four years ago, the thousands of kidnappings, the wanton acts of rape and torture, the growing number of orphaned children.
"For reasons they themselves probably do not completely understand, the various Mexican drug clans and organizations responsible for so much bloodshed have acquired a liking for public attention, and to hold it they have developed a grisly theatrical performance of death, a roving display of grotesque mutilations and executions. But for all the constant innovations, one horrifying beheading is, in the end, much like the next one. The audience's saturation point arrives all too quickly, and news coverage of the war, event-driven as all news is, has become the point when people turn the page or continue surfing."