A Timeline of Detention
Mohamedou Ould Slahi's life from arrest to today.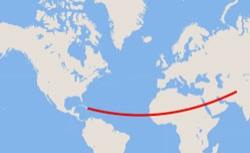 When Mohamedou Ould Slahi was detained in 2001, he was a 30-year-old electrical engineer living in his native Mauritania. Since Aug. 5, 2002, Guantánamo has been his home. Although he has been imprisoned there for nearly 11 years, the United States has never charged him with a crime. The following is a timeline of his arrest, detention, and attempt to win his freedom through America's courts.

2000:
Slahi returns to Mauritania. He had left the country 12 years earlier, at the age of 18, on a scholarship to study in Germany. In the early 1990s, he interrupted his studies and went to Afghanistan to join al-Qaida units fighting the Soviet-backed government in Kabul. He returned to Germany in 1992, completing his engineering degree and living and working first in Germany and then, for a few months, in Montreal, Canada.
9/29/2001:
Mauritanian police summon Slahi for questioning at the request of the U.S. government, telling him the United States is investigating his connections in Canada to Millennium bomb plotter Ahmed Ressam. Slahi is held for two weeks, questioned by FBI agents, and then released, with Mauritanian officials publicly declaring his innocence.
11/20/2001:
Mauritanian police come to Slahi's home and ask him to accompany them for further questioning. Slahi, who has just returned from work, willingly complies, telling his mother he will be home soon and driving himself to the police station. After a week, he is told that he is being sent to Jordan at the United States' request.
11/28/2001:
A Jordanian commando team flies Slahi from Nouakchott, Mauritania via Cyprus to Amman. He is held in isolation and interrogated by the Jordanian government for the next seven and a half months. The Jordanians conclude Slahi had no involvement with the Millennium plot.
7/19/2002:
A CIA rendition team retrieves Slahi—stripping, blindfolding, diapering, and shackling him—and flies him from Jordan to Bagram Air Base in Afghanistan. His Guantánamo memoir opens with this scene.
8/4/2002:
Following two weeks of interrogation in Afghanistan, Slahi is again bundled onto a plane, this time to Guantánamo. One of 31 prisoners processed into the facility on Aug. 5, 2002, he is assigned Internment Serial Number (ISN) 760; weight records show that after eight months in Jordan and Bagram, Slahi weighs 109.2 pounds on arrival. For his first several months in the facility, he is questioned by teams from the FBI and Navy's Criminal Investigation Task Force.
1/16/2003:
Despite mounting internal protests over the "special interrogation" of detainee Mohamed al-Qahtani, Guantánamo military interrogators circulate a draft "Special Interrogation Operation" plan that lays out a similar regime for Slahi. Under the plan, Slahi is to be held for weeks in extreme isolation, interrogated in up to 20-hour sessions followed by four hours of sleep, and subjected to a litany of physical, psychological, and sexual humiliations.
5/22/2003:
Slahi's last session with FBI agents. The following day, military intelligence interrogators from Joint Task Force GTMO assume control of Slahi's interrogation.
7/1/2003:
Guantánamo Gen. Geoffrey Miller approves "Special Projects" status for Slahi and signs off on a plan that includes a 90-day brutal interrogation. The interrogation is to culminate with Slahi being flown out over the Gulf of Mexico in a helicopter in a fake rendition to a Middle Eastern country where "the rules have changed."
7/8/2003–7/31/2003:
JTF–GTMO Memoranda for the Record show that Slahi is interrogated repeatedly by a masked interrogator known as "Mr. X," subjected to sleep deprivation, temperature extremes, and sexual advances by female interrogators. He is "exposed to variable lighting patterns and rock music, to the tune of
Drowning Pool's
'
Let the Bodies Hit the Floor.
'" On July 17, 2003, Mr. X tells Slahi he dreamed he saw four shackled detainees throwing a casket with Slahi's ISN number into a grave, and two days later he tells him that his family has been detained in Mauritania.
7/28/2003:
Deputy Secretary of Defense Paul Wolfowitz approves a memo authorizing Slahi's special interrogation plan and forwards it to Defense Secretary Donald Rumsfeld.
8/1/2003–8/2/2003:
A military interrogator posing as a naval captain dispatched by the White House shows Slahi a letter indicating that his mother is in U.S. custody and will be transferred to Guantánamo. "Captain Collins" implies that her safety cannot be guaranteed in "the previously all-male prison environment." The next day, an interrogator tells Slahi to "use his imagination and think up the worst possible thing that could happen to him," noting that "beatings and physical pain are not the worst thing in the world" and warning that if he does not cooperate he will "disappear down a dark hole."
8/7/2003:
Slahi asks to see Collins, saying he will cooperate. A JTF–GTMO Memo for the Record indicates his interrogator "congratulated" him on "his decision to tell the whole truth."
8/13/2003:
Despite Slahi's pledge to cooperate, Secretary of Defense Donald Rumsfeld approves and signs a memo authorizing Slahi's "special interrogation." The final plan substitutes a fake rendition by boat rather than by helicopter; the chief military interrogator at Guantánamo later tells investigators the plan was amended because Gen. Miller concluded that the abduction by helicopter "was too difficult logistically to pull off, and that too many people on the base would have to know about it to get this done." A week later, construction begins on a blacked-out isolation cell in GTMO's Camp Echo.
8/24/2003:
Slahi is shackled, beaten, and dragged to a boat that motors out into the Caribbean. Egyptian and Jordanian interrogators are on board, who further the ruse that he is being delivered to one of those countries for interrogation and torture. He is eventually returned to an isolation cell, where he remains through October.
September 2003:
JTF–GTMO documents report that Slahi begins providing intelligence to interrogators on Sept. 8, 2003 and "continues to be cooperative" through September and October. Marine Lt. Col. Stuart Couch, the military lawyer assigned to prosecute Slahi, later describes seeing suspiciously "prolific" intelligence summaries from this period.
10/9/2003:
A delegation of the International Committee of the Red Cross visits Guantánamo. Under international law, the ICRC is entitled to visit all prisoners in all detention facilities, but Gen. Miller tells the delegation that Slahi and three other detainees are "off limits" "due to military necessity."
10/17/2003:
A JTF–GTMO interrogator emails a military psychologist to report that Slahi is "hearing voices," and asks, "Is this something that happens to people who have little external stimulus such as daylight, human interaction, etc?" The psychologist writes back that "sensory deprivation can cause hallucinations, usually visual rather than auditory, but you never know. … In the dark you create things out of what little you have."
3/2004:
Working with an investigator from the Navy's Criminal Investigation Task Force, Lt. Col. Couch uncovers details of Slahi's treatment during "special interrogation," including the letter suggesting that Slahi's mother was going to be brought to Guantánamo. Couch concludes that Slahi has been tortured and refuses to prosecute the case, citing his Christian beliefs. He puts his concerns in writing, recording that "prosecutors in our office are very concerned about the allegations of detainee abuse at GTMO and Afghanistan, and we have individually taken steps to address this issue."
3/3/2005:
Slahi handwrites petition for a writ of habeas corpus, concluding "I have done no crimes against the U.S., nor did the U.S. charge me with crimes, thus I am filing for my immediate release."
Late 2005:
Slahi writes his 466-page memoir.
11/22/2005:
Slahi appears before an Administrative Review Board in Guantánamo. As he is recounting his treatment during the summer and fall of 2003, the transcript indicates "the recording equipment began to malfunction."
October:
President Bush signs the Military Commissions Act of 2006, which prohibits detainees designated as enemy combatants from pursuing habeas corpus petitions.
June:
The U.S. Supreme Court rules 5–4 in Boumediene v. Bush that the Military Commission Act's provisions nullifying habeas corpus petitions are unconstitutional and Guantánamo detainees have a right to habeas proceedings.
8/27/2009–8/28/2009:
U.S. District Court Judge James Robertson holds hearings on Slahi's habeas corpus petition.
12/14/2009–12/15/2009:
Slahi testifies before Judge Robertson via a video feed from Guantánamo. His testimony remains classified.
3/22/2010:
Judge Robertson grants Slahi's habeas corpus petition. In a declassified version of his opinion, Robertson writes, "The government's problem is that its proof that Salahi gave material support to terrorists is so attenuated, or so tainted by coercion and mistreatment, or so classified, that it cannot support a criminal prosecution. … The question, upon which the government had the burden of proof, was whether, at the time of his capture, Salahi was 'part of' al-Qaida. On the record before me, I cannot find that he was. The petition for a writ of habeas corpus is granted. Slahi must be released. It is so ordered."
3/26/2010:
The Obama administration files a Notice of Appeal.
9/17/2010:
Sep 17: The D.C. Circuit Court of Appeals hears the government's appeal of Judge Robertson's habeas decision, and two months later remands Slahi's case to the District Court for rehearing. The court cites three recent appeals courts decisions, issued since Robertson made his order, that revise the standard used to determine whether a detainee is "part of" al-Qaida.
To be announced:
A U.S. District Court will rehear Slahi's habeas corpus petition.
↑ Jump to top