Sour Grapes
Many Dems support Obama-Clinton ticket, and more than a few back McCain.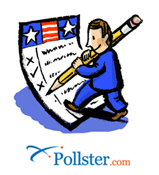 Even if there's little evidence for rumors that Hillary Clinton is positioning herself to be Barack Obama's running mate, this week's newest poll suggests voters have somewhat latched on to the idea.
According to a May 30-June 3 CBS News poll (PDF), 59 percent of Democratic primary voters want Clinton as Obama's running mate. That sentiment was similarly echoed in a CNN/Opinion Research Corp. poll conducted on Thursday, in which 54 percent of registered Democrats also supported the so-called "dream ticket."
Presumably, those numbers possess increased significance in an election fraught with discussion about defection rates. According to the CBS poll, 22 percent of Clinton supporters say they prefer John McCain to Barack Obama. Additionally, 7 percent claim they're undecided, and 8 percent say they won't vote at all.
CBS reports that 12 percent of all Democrats currently support McCain, an increase from the 8 percent that deserted John Kerry for George Bush in 2004. Just more than half of Democratic voters—54 percent—reported feeling that the prolonged primary fight has hurt the party's chances in November, regardless of whom Obama actually taps as his running mate.
Election Scorecard uses data supplied by Mark Blumenthal and Charles Franklin at Pollster.com.
 
Delegates at stake:
Democrats
Republicans
 

Total delegates: 4,233
Total delegates needed to win: 2,117

Total delegates: 2,380
Total delegates needed to win: 1,191


 

Pledged delegates won by each candidate:
Obama: 1,765.5; Clinton: 1,639.5

Source: CNN, DemConWatch

Delegates won by each candidate:
McCain: 1,500

Source: CNN


Want more Slate election coverage? Check out Map the Candidates, Political Futures, Trailhead, XX Factor, and our Campaign Junkie page!